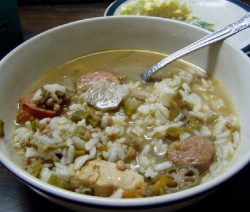 "As a little girl, I used to sit in my Granny's kitchen in Lafayette and watch her chop the veggies for this fabulous gumbo. It's very filling, and for me, it's the ultimate comfort food. It's made with a lighter roux, and the spice can be adjusted with a little ...
Read more Corona Romero for her friend and winner Suzanne Meaux Grand Champion, Peoples Choice and First Place in the Big Dippers category. Suzanne Meaux won on July 8th, the first ever Ice Cream Freeze Off held in Lafayette, LA. This is the first time the state has ever had this competition. ...
Read more Mawmaw was told that this was the secret dish that wooed this happy lady into marriage. The author also adds that "this is a famous and expensive New Orleans dish that you serve as is with crusty French bread and use the juice w/butter as the dip". Ingredients fresh shrimp ...
Read more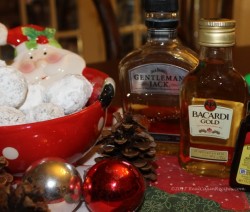 These bourbon rum balls have "Holidays and Let's get Together" written all over them. Ingredients 2 cups finely ground gingersnap cookies 2 cups finely ground graham crackers 1 1/2 cups powdered sugar divided in half 1 cup ground pecans 1 cup flaked coconut 1/2 cup raisins 1 tablespoon grated orange ...
Read more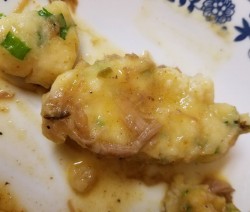 This recipe was originally posted to the Cajun French Virtual Table Francaise Facebook Group. It's different from other dumplings posted on the site because it's light and fluffy, and features parsley and onion tops. The author, Jamie Sellers, said "We cooked our dumplings in a pork roast and gravy. You ...
Read more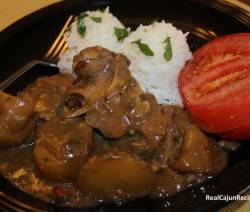 Fricassee A thick Cajun stew made with roux and any type meat. If you were using pork this stew would also have potatoes in it. Chicken is probably the most popular meat used. This recipe is a somewhat short-cut version. Ingredients 4 - 6 pork chops (depending on size) or ...
Read more Cajun brownies are probably the easiest no fail brownie you can make. The topping added makes it a unique type of brownie. Ingredients 1 box Yellow Cake Mix 3 eggs 1 tsp vanilla extract 8 ounces cream cheese 1 box 16 oz powdered sugar 1 stick 8 tbsp butter Directions ...
Read more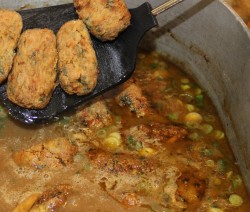 Get fo' or t'ree of y'all's people together; maybe your nonc or your parraine and Granmere' and f'sho your cher ami, especially if y'all make double or quadruple batches. Good company around the make-table makes the time go fast and the food taste better. This recipe quantity allows for freezing. ...
Read more ...Ingredients 20 cups water 5 cups of Quaker grits 1 pound butter Directions Step 1 Add butter to boiling water, stir Step 2 Add grits to mixture, stir well and enjoy~ Share this: Facebook Pinterest Twitter Email Print More LinkedIn Reddit...
Read more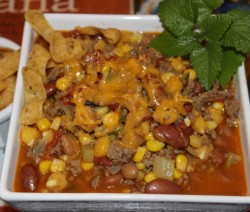 I usually cook this on Sundays before a Saints game. It's a crowd favorite — the ladies love it! A visitor posted that this soup freezes really well! Ingredients 2 pounds ground beef 2 15 oz cans kernel corn (undrained) 2 15 oz cans pinto beans (undrained) 2 15 oz ...
Read more Ingredients 1 large box orange jello 1 (16 oz) bag miniature marshmallows 1 (8 oz) can crushed pineapple 1 (8 oz) package Philadelphia Cream Cheese 1 envelope Dream Whip Topping Mix 1 cup cold water 2 cups hot water Directions Step 1 Dissolve jello in the hot water. Step 2 ...
Read more This recipe is great with bar-b-que or with any Cajun Sunday dinner or family gathering. Lache Pas La Patate – an old Cajun phrase which means more than "don't let the potatoes go!" Ingredients 32 ounces hash brown potatoes cubed 1 stick butter 1 container (8 oz) sour cream 1 ...
Read more Sweet potatoes any way you want to prepare them are one of the more traditional holiday dishes. Ingredients 3 cups cooked sweet potatoes 1 cup sugar 1/2 tsp salt 1/2 stick butter 1/2 cup milk 1/2 tsp vanilla 1 tsp cinnamon 1 cup brown sugar 1/3 cup flour 1/3 stick ...
Read more Oyster, artichoke and mushroom medley in puff pastry shells. This is a wonderful appetizer for any occasion. We served this appetizer the other night along with crab-stuffed mushroom caps and smoked salmon, red onion and marjoram cream cheese canapes. A fume blanc, pinot gris or other crisp/spicy white wine is ...
Read more