Recipes by

Racheal LeMaire Tupper This makes a great batter recipe for virtually any type of vegetable and chicken nuggets. Ingredients 3/4 cup ARGO cornstarch 1/4 cup unsifted flour 1 tsp baking powder 1/2 tsp salt 1/2 tsp black pepper 1/2 cup water 1 egg, slightly beaten 1 quart oil for frying 4 cups cut ...
Read more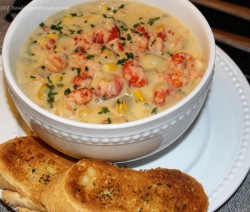 Cajuns love their seafood. This "soup for the Cajun soul" can be made with crab, shrimp, crawfish, all three or in combination with each other. Most everyone use the term Bisque and Chowder interchangeably. However bisque is smooth, chowder is thick and chunky. Traditionally it's pieces of vegetables and seafood. ...
Read more Ingredients 1 cup shortening 1 3/4 cups sugar 4 eggs 1 tsp vanilla 3 cups sifted flour 1/2 tsp baking powder 1 tsp salt 1 tsp cinnamon 1/4 cup sugar 1 (21 oz) can cherry pie filling Directions Step 1 Preheat oven to 350 degrees. Step 2 Cream shortening, sugar ...
Read more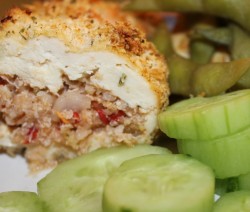 This is an easy meal to prepare. You can make this more heart healthy by baking in the oven instead of cooking it in oil. Ingredients 1/2 cup onion, chopped fine 1/4 cup celery, finely chopped (or substitute celery salt and dried celery leaves to taste) 1/4 cup bell pepper ...
Read more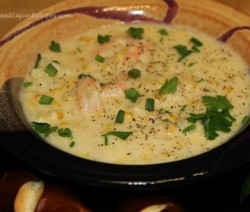 What a delightful and rich tasting soup. Serve this as an appetizer and you will be the hit of your dinner party. Great anytime comfort food is needed. Ingredients 1 stick margarine or butter - 1/2 cup 2 tbsp flour or gravy mix 1 medium chopped onion white onion preferred ...
Read more Ingredients 8 boneless chicken breasts 2 eggs, beaten 1/4 cup water Season all, black pepper, onion and garlic powder all to taste Parmesan cheese Breadcrumbs or Panko Bread Crumbs 1 lb shrimp, cut in pieces 2 small onions, chopped fine 1/2 cup margarine or butter 1/4 cup sherry or chicken ...
Read more Ingredients 1 can mixed vegetables 1 onion, chopped 1 package Brown Gravy Mix 2 potatoes, peeled and cubed 2 cans biscuits 1 1/2 lbs ground chuck 1 tbsp oil Water (see directions) Directions Step 1 Preheat oven for the biscuit temperature. Step 2 Put oil in a medium saucepan and ...
Read more