Recipes by

Colby LeMaire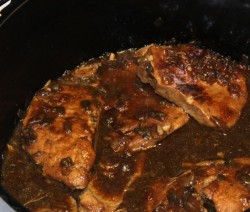 I have seen my mom make rice and gravy many times. I got really hungry for some and she was not around; so I followed my instincts and made this delicious dish. The pork was really tender and the gravy was excellent. I commented at the table how Mom would ...
Read more As a dietician graduate, one of my labs was supervising the preparation of a classic Cajun meal. I picked up my Mom's recipe for frying frog legs and received an A in the assignment. Ingredients 16 frog legs skinned and clean 1 cup canola or peanut oil 1/2 cup flour ...
Read more Ingredients 1 cup softened margarine 2 cups all purpose flour 1/2 cup powdered sugar 4 eggs 2 cups sugar 4 tablespoons flour 7 tablespoons lemon juice Directions Step 1 Mix together the first three ingredients - margarine, flour, and powdered sugar Step 2 Pat into the bottom of a 9 ...
Read more The first time I cooked these my Mom was frying shrimp. I asked if she could prepare hush puppies. She asked if I could do them as she had her hands full. As it turned out, my hush puppies came out great. Mom said they were better than hers. Ingredients ...
Read more Mawmaw always cooked these at Christmas time. Ask Chad, Colby and Chrissy what they think of these. Ingredients 2 3/4 cups flour 2 1/2 tbsp baking powder 1/2 tbsp salt 2/3 cup shortening 1 lb brown sugar 3 eggs 1 cup pecans, chopped 1 (6 oz) package chocolate chips Directions ...
Read more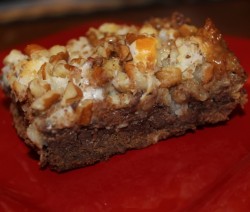 This was one of my grandson Colby's favorite cookies at Christmas. Now he makes his Mom do them. Ingredients 1/2 cup butter or margarine 1 package Betty Crocker German Chocolate Cake Mix 3 cups miniature marshmallows 1 (6 oz) package semi-sweet chocolate chips or butterscotch 1 1/2 cups flaked coconut ...
Read more