 ...uice 3 cups flour 2 1/4 tbsp baking powder 1/2 tsp salt 3/4 cup pecans, chopped 1 cup fruit, chopped Directions Step 1 Preheat oven to 350 degrees. Step 2 In a medium saucepan, melt butter with honey. Remove from heat. Slowly add the eggs and lemon juice and mix ...
Read more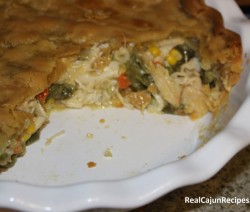 ...medium saucepan, sauté the mixed vegetables and onion in butter. Step 3 Add the chicken and the can of soup. Stir until heated through out. Step 4 Pour into pie shell and cover with the second pie shell. Make slits in top crust. Step 5 Bake 35 to 40 minutes ...
Read more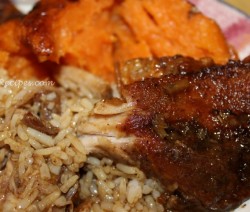 ...OT BASTE, as this will make the skin soft rather than crackling' good. Step 5 Remove from the oven. Place roast on a platter & place on the stove top. Step 6 Add 1/4 cup water to drippings and heat for a few minutes. Serve gravy over steamed rice. Make ...
Read more ...p each of onion, bell pepper, & celery chopped 1 stick butter Directions Step 1 Chop the onion, bell pepper, celery; sauté in butter until tender. Step 2 Add the cream of mushroom and cream of onion and cook 5 to 10 minutes. Step 3 Stir in the cheese, shrimp ...
Read more ...cans cream of mushroom soup 12 bacon slices 1 cup sour cream silvered almonds optional Directions Step 1 Wrap each breast with a piece of bacon. Cover bottom of flat baking dish (8x12) with the roast beef. Place chicken breast in pan. Step 2 Mix undiluted soup and sour cream ...
Read more ...erfect mushroom sauce for the broiled flank recipe on this site. Of course, its uses are not limited to just this one dish. Ingredients 8 oz mushrooms, fresh or canned 2 sticks butter 2 tbsp Worcestershire sauce 2 tbsp lemon juice 2 tbsp dried basil crushed 2 tsp garlic salt ...
Read more ...e the squash. Step 2 In a Teflon coated saucepan, brown the bacon starting on high heat then reduce heat to finish cooking. Step 3 Add the onions and saute. Step 4 Add the ground beef to the onions and brown.Season meat to taste Step 5 Prepare a 9x13 casserole ...
Read more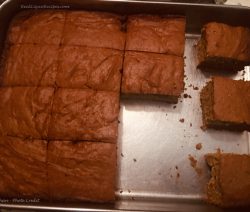 ...fig preserve muffins – so good Ingredients 1 cup (2 sticks) butter 2 cups sugar 3 eggs 1 tablespoon vanilla 3 cups flour 1 teaspoon baking soda 1 cup fig preserves (mash with a fork) Directions Step 1 Cream butter and sugar Step 2 Add eggs and vanilla Step 3 ...
Read more