Recipes by

W. Lebouef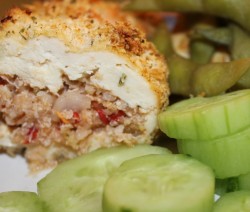 ...losed. Dip the chicken in the egg and milk mixture and pass in the coating. You can choose to season either the chicken or the coating. Step 5 Cook the chicken in hot oil until the coating turns brown and the meat runs clear when pricked with a fork. Remove ...
Read more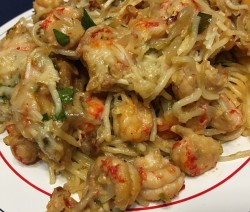 ...No Problem – Leave it off Ingredients 2 - 3 pounds crawfish (the more the better) 1 large onion 1 large bell pepper 1 stick butter 3 tbsp olive oil 1 can cream of mushroom 1 can shredded Parmesan cheese (16oz) 1/2 cup white wine Angel Hair Pasta Sun-dried Tomatoes ...
Read more ...2 cup margarine or butter 1/4 cup sherry or chicken broth 1 can crab meat small Celery Salt to taste Dried Celery Flakes to taste Directions Step 1 With a tenderizer hammer, flatten the chicken breast. Step 2 In a separate bowl combine the water and beaten eggs. Step 3 ...
Read more ...snapper 1 can Rotel Brand tomatoes (optional) Directions Step 1 Preheat oven to 400 degrees. Fry bacon in a skillet. Remove the bacon and wilt the onions in the bacon fat. Add tomatoes (and Rotel) breaking and chopping them with a spoon. Step 2 When the mixture is bubbling, add ...
Read more ...d fine 3 slices of toasted bread, crumbled Salt and black pepper to taste Red pepper to taste 4 cups water Directions Step 1 Preheat oven to 325 degrees. Step 2 In a large pan, sauté ground meat, eggplant, and onion until brown. Step 3 Dissolve bouillon cubes in the ...
Read more