Recipes by

Veronica Hebert Once you have tasted this dish, you'll prepare it over and over. Editor's Note: Courtbouillon compliments the taste of almost any fish. Ingredients 1 six pound fish 1/2 cup salad oil 1/4 cup flour 2 large onions sliced 21/2 cup canned tomatoes 2 chopped bay leaves 1/4 tsp allspice 4 ...
Read more Eggplant is a warm season vegetable that requires a relatively long growing season to produce economic yields. The plant is very tender to frost and easily injured by long periods of cold temperatures below 50°F. Eggplants are more sensitive to low temperature than either tomatoes or peppers. The French call ...
Read more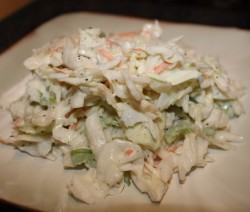 Cole slaw seems to go with any Cajun dish. A little imagination was used in preparing this slaw dressing. My husband likes sugar and I like vinegar and salt so I combined our different tastes and came up with this dressing. Ingredients 1/2 green pepper chopped fine 1 tsp salt ...
Read more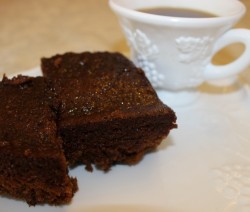 In Southwest Louisiana, cane syrup is very popular and is used often in baking or cooking! The flavor of Syrup Cake intensifies once it has been refrigerated in a closed container and can be kept for weeks in your refrigerator. Syrup Cake is enjoyable anytime, especially with a cold glass ...
Read more Crawfish are plentiful in Southwest Louisiana, and are used in several different dishes. This particular dip may be served in small individual pastry shells. See recipe on site for the easy to make pastry shells. Ingredients 1/4 cup butter 1 - 2 medium onion chopped 2 bunches shallots chopped 1/2 ...
Read more The sweet potato is an excellent energy food and has Vitamins A, B, and C, and minerals. The sweet potato is mild in flavor and combines nicely with many other foods. A thoroughly cooked, other than fried, sweet potato is easily digested and, therefore, recommended for children (and big Cajuns ...
Read more I tested this recipe on friends for the holidays and they loved it. I have been asked repeatedly for this recipe. For a busy woman, this recipe is not only quick to put together, but it also taste great. Ingredients 1 box butter pecan cake mix 1 container Coconut Pecan ...
Read more One of the more popular classic Cajun sweet pastries. I can still smell the aroma wafting out the kitchen when these were cooking. Ingredients 1/2 cup margarine 2 cups flour 1/2 tsp vanilla 1 tbsp milk 1 tbsp baking powder 1/4 cup sugar 2 eggs 1/8 tsp salt Oil for ...
Read more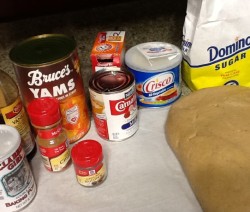 This tart recipe has been handed down from Doris' mother and my grandmother, Ella Broussard. Ingredients 1 cup Crisco 4 cups flour 1 tbsp vanilla 2 cups sugar 5 eggs 5 tsp baking powder Directions Step 1 Cream together the Crisco and sugar until fluffy. Beat eggs and vanilla into ...
Read more