Recipes by

Shirley Thibodeaux This old time sugar-coated popcorn dish is almost a lost tradition. Ms. Shirley's friends still trade her bowls of shrimp and okra gumbo for batches of her kettle corn. Ingredients 3 to 4 gallons of popped popcorn 6 - 7 cups sugar 1 cup regular milk Roasted peanuts (optional) Pecans ...
Read more Holiday meals are extra special with this sweet potato dish. Ingredients 3-4 fresh sweet potatoes, peeled and boiled 1 (20 oz) can of crushed pineapple (in heavy syrup) 1 cup brown sugar 1 cup pecans 1 cup marshmallows Directions Step 1 Slice the boiled sweet potatoes into one to one-half ...
Read more This dish contains most of the variety meats that Cajuns call debris. It consists basically of the organs such as liver, heart, kidneys, tripe, spleen (melt), the honeycomb (la platin), brain, lungs and sweetbreads (pancreas). There are two kinds of sweetbreads: stomach sweetbreads (also known as heart or belly sweetbreads), ...
Read more Tac-Tac, our French word for popcorn, can be fixed so many different ways. This is a classic Cajun treat. Ingredients 6 cups popped popcorn 2 tbsp butter 2 cups granulated sugar 1 cup water 1 tsp vanilla food coloring Directions Step 1 Place the popped corn morsels into a shallow ...
Read more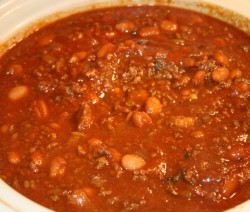 This chili is super easy to make and super good.. Ingredients 5 pounds ground beef 1 tbsp McCormick Season All or Cajun Spice 1/4 cup oil for browning 1 package Cajun Trinity or 2 medium chopped onions, 1 stalk celery and 1 medium bell pepper 3 large 15oz cans Hunts ...
Read more