Recipes by

Mary Ann Broussard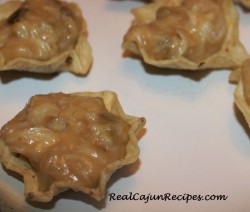 ...the State of Louisiana. When the Rockefeller Foundation officially granted the property to the state, they spelled out in the Deed of Donation exactly how the property was to be used — for crabbin'! In Memory from Mary Ann Broussard Recipe Collection for Florine   Ingredients 1/4 pound butter 2 ...
Read more MaryAnn Broussard Recipe Collection for Ms Ronnie Mack Broussard Cajuns love their rice, and their modern rice cookers. No matter the brand, Cajuns refer to their rice cooker as a Hitachi! Ingredients 1 pound peeled shrimp 1 pint oysters, drained 1- 6oz can crabmeat or 1/2 cup fresh 1 can ...
Read more Potatoes are definitely America's favorite vegetable. And, of course, Cajuns are no exception. Ingredients 8 slices of thick season bacon, cut into 1 inch then fried until crisp 5 large red Irish potatoes 1 large onion chopped 1 pint Half n Half 1 can cream of corn 2 cans cream ...
Read more My great grandma use to make this recipe. The rule for this recipe was always use butter, not margarine. My grandma always made her biscuits, but I know that many use the prepared biscuits Ingredients 1 batch homemade biscuits sugar butter 1/2 cup sugar pinch salt 2 tbsp butter 1 ...
Read more This is a tomato-based pork chop casserole. Ingredients 3 cups sliced potatoes 6 pork chops 1 can tomato soup 1 (8 oz) can tomato sauce 1 large onion sliced in rings salt and pepper to taste or any Cajun spice Directions Step 1 Spray Pam or rub oil in the ...
Read more Ribs make such a delicious dish. Short ribs are some of Mawmaw's favorite. Beef short ribs are larger and usually more tender and meatier than their pork counterpart, pork spare ribs. Short ribs are cut from the rib and plate primals and a small corner of the square-cut chuck. A ...
Read more This was an interesting recipe for Maw-Maw. It was the 1st time that the word "cobbler" was used in a crabmeat recipe. In reviewing the recipe and the ingredients, one of the differences was the tomatoes. Another interesting ingredient was the Accent; Accent is a brand name for MSG. MSG ...
Read more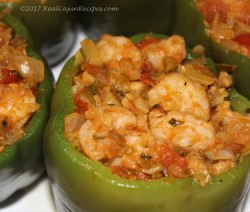 No Rice Shrimp Stuffed Bell Peppers Need to make use of your garden's crop of bell pepper, zucchini, and tomatoes? Try this delicious no-rice stuffed bell pepper paired with shrimp – freezes well and fits many weight plans. A simple dish that would be great for Weight Watchers and KETO.. ...
Read more No Cajun wedding reception is complete without a wonderful food, booze (drink responsibly), and the "Chicken Dance" song. While often placed firmly on the "do not play" list along with "YMCA" and the "Macarena," the song about flapping your wings like a silly bird still sneaks onto the set list ...
Read more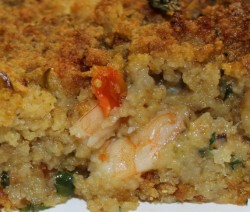 Enjoy this fun information on LA seafood: in a blind taste test, consumers chose Louisiana oysters over others sold in the US 85% of the time. Cajuns will chose it 100% of the time. Fried Oyster or Fried Shrimp compliment this dish. Ingredients 1 stick butter 1 medium onion minced ...
Read more This sweet punch has a nice pulpy texture. Ingredients 4 cups sugar 6 cups water 2 1/2 cup orange juice 1/2 cup lemon juice 4 cups pineapple juice 5 ripe bananas mashed 28 ounces bottle ginger ale chilled Directions Step 1 First make a simple syrup by combining the 4 ...
Read more We found a delicious way to make cabbage unhealthy! Ingredients 1 pound coleslaw 1 bunch green onions - scallions 1 cup sliced toasted almonds 1 cup sunflower seeds 2 packages Ramen Noodles (leave out seasoning packet) 3/4 cup oil 1/2 cup sugar or sugar substitute 1/3 cup vinegar Directions Step ...
Read more