Recipes by

Kip Alexandre Faulk One spelling variation for this dish is "mock" choux. This is a spicy blend of Louisiana crawfish, corn, veggies and seasoning. Ingredients 1 1/2 sticks butter 2 tbsp Jack Daniels Whiskey 1 bell pepper 1 large onion 1/4 cup garlic, minced 1-2 lbs crawfish 1 can Extra-Hot Rotel Tomatoes 1 ...
Read more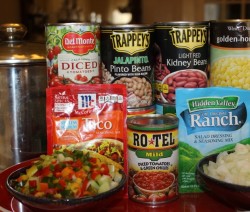 "This is a recipe that has passed through my family for a few years now. Of course, I'd take the version that my grandmother, Mrs. Nolia Faulk, passed on to my father, Kendal Faulk, and put my own twist on it. My Southwestern Grilled Chicken Soup is fairly heart healthy ...
Read more Boneless, skinless chicken breasts stuffed with fresh venison sausage. A spicy blend of Cajun cuisine that will please everyone's taste buds. Ingredients 6-8 skinless, boneless chicken breasts 1/3 cup dry white wine 1/2 lb venison sausage 1/2 cup jalapeno peppers, chopped 1 onion, chopped 1 bell pepper, chopped 2 tbsp ...
Read more "After I moved to Kansas City, Missouri, I ran across a problem: I wanted to make traditional Cajun food, but did not have all of the ingredients I needed available to me. This recipe is representative of the Cajun lifestyle, using what we have around us, and making something great ...
Read more One of our more "Guilt-Free Cajun Creations" Our author writes, "This is another one of my somewhat Heart-Healthy recipes. There are a few open markets here in Kansas City, and one day, while walking through the famous City Market, I stumbled upon a vender selling the odd combination of spinach ...
Read more "While living in Lake Charles, Louisiana, I had a few friends visiting from Austin, Texas. I offered to cook dinner for these guys, but to my surprise, they soon let me know that they were vegetarian. This was a first for me, but not a problem. My creativity led me ...
Read more