Recipes by

Kimball Knight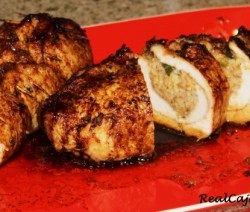 Stuffed boneless pork butterfly loin chops. I came up with this recipe just so I'd have another reason to eat boudin! Ingredients 4 boneless pork butterfly loins 1/2 to 1 lb pork boudin for stuffing 1/4 cup green onions (scallions), chopped Salt and pepper to taste 1/8 cup cooking oil ...
Read more These pistolettes are very simple to make and so good! You can take your biscuits and gravy with you! This recipe is easily modified to your personal taste. Many things could be added such as cheese, onion, Tabasco sauce, your imagination is the limit. Ingredients 1 pound ground sausage 8 ...
Read more These grillades are great served over cheese grits at a holiday brunch. Ingredients 2 pounds venison tenderloin cut into 3/4" cubes 1 to 2 minced garlic 1 tbsp salt 1/2 tsp cayenne 1/2 tbsp ground black pepper 1/2 tsp garlic powder 1/2 cup all-purpose flour 1/2 cup vegetable oil 2 ...
Read more Nothing is better than fresh tomatoes from the garden, unless they are baked with sweet corn in this refreshing summer pie. Ingredients 2 pie crust 1/2 pound fried and crumbled bacon 1/3 cup Parmesan cheese 1/3 cup mayonnaise 2 tbsp fresh lemon juice 1 3/4 pound beefsteak tomatoes 1 1/2 ...
Read more This is a special venison broth that can stand alone as a broth for pasta or, if you clarify it later, as a consommé. It's stronger in flavor than stock, so if you use it as a base for stews or soups, remember that – and label your jars accordingly. ...
Read more This bisque is smooth and satisfying. Made with Louisiana sweet potatoes and gulf shrimp. Ingredients 3 tbsp olive oil 2 pounds raw Gulf shrimp in shells 2 quarts water 1 pint dry white wine 8 ounces clam juice 2 bay leaves 1 shrimp bouillon cube 2 tbsp butter 1 cup ...
Read more