Recipes by

Chad LeMaire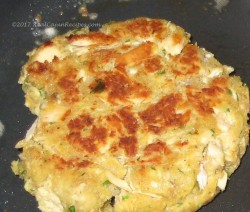 Crabmeat differs in type and flavor. Crabmeat from the body is pale ivory and subtle in flavor; claw and leg meat has a darker, reddish color and is more flavorful. Either type works well in this dish. Ingredients 1 lb crabmeat, lump or claw 1 cup bread crumbs 1 egg ...
Read more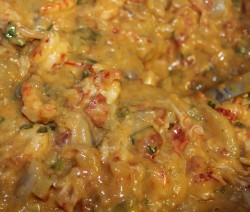 This is actually our go-to etouffee recipe, even though it contains no butter or crawfish fat. The flavors are really incredible and have been known to prompt marriage proposals (no kidding, just ask Shauna Chauvin Richard!) Ingredients 1 lb crawfish tails or shrimp, peeled and cleaned 1 onion, chopped 1 ...
Read more Ingredients 1/4 cup margarine 1 large package of frozen hash browns 1 small jar of Cheese Whiz 1 (10 oz) can cream of chicken soup 1 (8 oz) tub of sour cream 1/4 cup chopped onions 1 cup crushed cornflakes Directions Step 1 In a medium bowl, mix the cheese ...
Read more Great on crackers or a sandwich. Ingredients 1/2 cup chopped onion 1/2 cup chopped celery 1/2 cup chopped green pepper 1/4 cup butter 1 lb crabmeat (claw or lump or mixed) 2 boiled eggs, finely chopped 1 tbsp parsley, finely chopped 3/4 cup saltine crackers, crushed 1/2 cup mayonnaise 1/4 ...
Read more Need a fast and easy beef dish, try this recipe for dinner. Ingredients 1 tbsp cooking oil 1 lb chuck or lean ground beef 2 cups cooked rice 1 package of dry onion soup mix 1 (10 oz) can cream of mushroom soup 1 (10 oz) can Rotel tomatoes Directions ...
Read more These waffles can be made ahead and frozen for those mornings where it is rush, rush, rush. These are rich and super fluffy. Pour on some Steen's Cane Syrup and breakfast is perfect. Ingredients 2 cups flour 4 tsp baking powder 1/2 tsp salt 2 tsp sugar 1 3/4 cup ...
Read more This is a traditional biscuit recipe that has been modified for contemporary tastes. These have a light, sweet taste and are perfect for breakfast. Ingredients 2 cups flour 1/3 cup sugar 2 tsp baking powder 1/2 tsp baking soda 1/4 tsp salt 8 ounces lemon yogurt 1 egg slightly beaten ...
Read more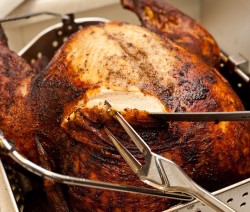 One of my favorite cooking ideas is to deep fat fry our turkey for the holidays or New Year's parties. My wife loves it when I cook; gives her time to do the other baking and cooking while I prepare the main dish. Ingredients 12-15 lbs turkey 1 1/2 cups ...
Read more In Cajun country everyone and everything is related. This dish is a cousin to Cajun Fried Turkey; we figured if deep fried turkey tastes great, why wouldn't the same be true with a chicken? This fairly new dish to Cajun cooking is worth a try if you have a deep ...
Read more Mawmaw always cooked these at Christmas time. Ask Chad, Colby and Chrissy what they think of these. Ingredients 2 3/4 cups flour 2 1/2 tbsp baking powder 1/2 tbsp salt 2/3 cup shortening 1 lb brown sugar 3 eggs 1 cup pecans, chopped 1 (6 oz) package chocolate chips Directions ...
Read more