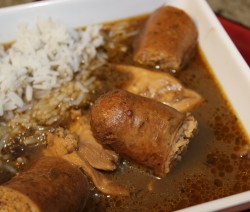 ...t do not overdo it as it will have that burnt taste. For this roux, the secret is to make it light and not thick. Set aside. Step 2 In a separate pot add 2 tablespoons of oil, the chicken and onions. Brown chicken very well. Step 3 Once brown ...
Read more ...er 1/2 tsp baking soda 1/2 tsp salt 1/4 cup shortening 3/4 cup milk Directions Step 1 In a bowl, combine the flour, baking powder, baking soda and salt. Step 2 Cut in the shortening until the mixture resembles coarse crumbs. Step 3 Stir in the milk and knead the ...
Read more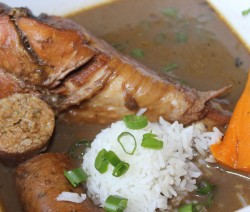 ...he smoke sausage, along with the roux mixture. Stir to coat the pieces with the roux. Step 3 Add enough water (3 to 4 quarts) to fill your pot 3/4 way and cooked down half way for about an hour. Skim the extra oil out of the stock. Step 4 ...
Read more ...een bell peppers. Step 3 Cook until the chicken is golden brown and onions are translucent. Step 4 Add the roux to the chicken and simmer for 3 minutes or so. Step 5 Finally add the baby lima beans and enough water to make a stew-like consistency. You could substitute ...
Read more ...il and fats. Drain the 6 cans of spinach and add to the brown ground meat, salt and black pepper. Add 3 cups of water and mix well. Step 2 Make a white roux made with the 1/4 cup of plain all-purpose flour and the 1/4 cup of water and ...
Read more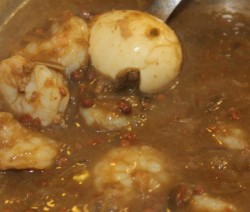 ...tions Step 1 First you make a roux with two large cooking spoons of flour and 1/4 cup cooking oil. Keep the roux consistency more like a liquid rather than thick. Brown the mixture but don't overdo it as it may get a burnt taste. Step 2 Add the smothered ...
Read more ...thinking about it I will have to make some :o)" Ingredients 2 pounds peeled shrimp 1 large onion sliced 5 medium potatoes 1 can biscuit dough or homemade biscuits 2 tbsp cooking oil salt, black pepper, red pepper to taste Directions Step 1 In a large stock pot, add oil ...
Read more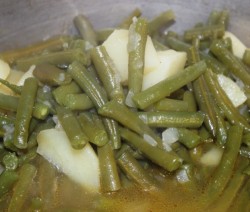 ...Step 1 In a heavy quart pan, add the oil and onions. Cook until onions are translucent. Step 2 Add ham bits and cook for another 5 minutes stirring constantly. Add green beans cover and cook on low to simmer for 30 minutes. Step 3 Just before you are almost ...
Read more ...ender. Drain and set aside to cool. Step 2 Preheat oven to 350 degrees F. Spray a 2-quart casserole with No Stick cooking spray and set aside. In a large skillet, melt 2 tablespoons butter. Add the celery and onion. Cook and stir over medium heat until tender. Stir in ...
Read more