Recipes by

Peggy Buchanan ...Ingredients 3 tart apples, peeled and diced 1 Granny Smith Apple, peeled and diced 1 jar pickled beets, drained and julienned 2 tbsp salad dressing 2 tbsp sugar Directions Step 1 In a glass bowl (with a cover), mix all ingredients together. Step 2 Chill and refrigerate. Will last up ...
Read more Ingredients 1 (12 oz) package semi sweet chocolate 4 blocks shaved white chocolate 1 (12-14 oz) bag of salted peanuts Directions Step 1 In medium size bowl, microwave the chocolate on high for 2 minutes. Stop and stir chocolate after first minute. Step 2 Toss in the salted peanuts; the ...
Read more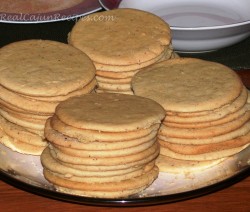 This classic sugar cookie is made easier with this no fail recipe. Bring them with you on your duck hunts, skiing trips or white water rafting. Great to snack on after expending all that energy. Ingredients 1 cup butter (softened to room temperature) 1 1/2 cups sugar 2 medium eggs ...
Read more These nuts are wonderful for entertaining or just plain snacking. You can use any nuts such as pecans, walnuts or almonds. If using almonds, blanch the nuts. Ingredients 1 egg white 1 tbsp water 2 cups whole nuts (if using almonds, blanch the nuts) 2 tsp chili powder 1/2 tsp ...
Read more Ingredients 1/2 cup rum 3/4 cup chopped almonds 3/4 cup golden raisins 1 (3 oz) package vanilla regular pudding and pie filling 1 Angel Food cake 1/2 cup chilled whipping cream Directions Step 1 Pour rum over chopped almonds and raisins in a small bowl. Let stand one hour. Prepare ...
Read more