Recipes by

Helga Bourque Lange During summer when eggplants were plentiful and shrimp were to be had, Momma would make this simple eggplant dressing. Cooking for 9 children always kept Momma busy. Ingredients 2 large eggplants 1 large onion, chopped 3 cups cooked rice 1 bell pepper, chopped 1/2 cup parsley, chopped 2 tbsp oil ...
Read more My Mom made the best bread. She had lots of practice cooking for eleven. We always looked forward when Mom made her bread for our mid-afternoon snack when we were working in the fields. We would eat the bread with lots of butter or fig preserves. Ingredients 1/4 cup water, ...
Read more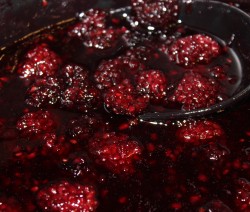 Snakes and Blackberries go hand in hand. If you have ever picked blackberries you probably know that, already! The picture shown is the blackberries cooking before adding the dumpling. Ingredients BLACKBERRIES 1 gallon blackberries 4 cups sugar (may need 5 cups) 3 quarts water DUMPLINGS 1 1/2 cup self-rising flour ...
Read more As a young child my Grandma made a bouille (pudding) that I dearly loved. I never learned how to make it from her. Visiting my Nanny Ruby one day, I asked if she knew how to make it. She knew how but didn't have a written recipe. She offered to ...
Read more ...My Momma use to fix this for her children Ingredients Honey Whiskey Lemon Directions Step 1 Equal parts of each Step 2 Mix and Stir Share this: Facebook Pinterest Twitter Email Print More LinkedIn Reddit...
Read more Ingredients 3 cups fresh blackberries 2 cups sugar 1 cup flour 1 egg 1 stick butter, melted 1 teaspoon vanilla 1 teaspoon baking soda 1 teaspoon baking powder 1 teaspoon salt I teaspoon vanilla Directions Step 1 Wash berries then place on paper towel in 9 x 13 pan to ...
Read more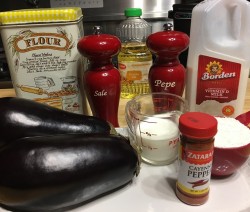 Great by themselves or in a rice dressing. Ingredients 1 large eggplant peeled and medallion sliced 1 egg, slightly beaten 1/4 to 1/2 cup of water or milk 1 cup all purpose flour 1/2 tsp salt 1/2 tsp black pepper 1/2 tsp cayenne (optional) Sprinkle of granulated sugar Oil for ...
Read more