Tomato Relish
2002-05-26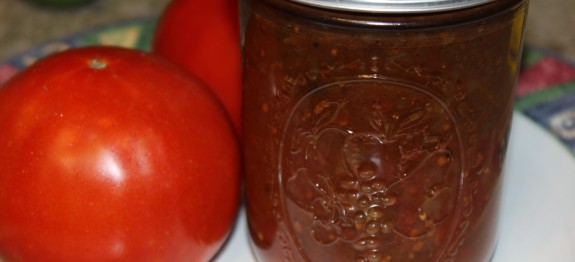 Yield :

4 servings

Servings :

4 servings

Prep Time :

45m

Cook Time :

60m

Ready In :

1:45 h
Too many tomatoes in the garden? Try canning them with this relish recipe that goes great with anything. Really wonderful with fried shrimp or as a side condiment for your rice, meat and gravy.
Ingredients
3 bell peppers, chopped
5 onions, chopped
1 pint vinegar
2 cups sugar
2 tbsp salt
2 tbsp black pepper
1/2 (2.5 oz) bottle chili powder
1/2 package pickling spice
3 hot pepper pods (optional)
1/4 tsp garlic powder
3-4 quarts peeled tomatoes
Directions
Step 1
Start with a big dish (3 to 4 quarts) of fresh skin-peeled tomatoes. You may want to blanch the tomatoes to make it easier to peel the skins off.
Step 2
Combine all ingredients in a large heavy pot similar to a Magnalite roaster or canning pot. Cook over medium heat, stirring occasionally, until mixture is thick and similar to ketchup in consistency.
Step 3
Process and can in jars.