Delcambres' Shrimp Etouffée (Etoufée)
2005-03-22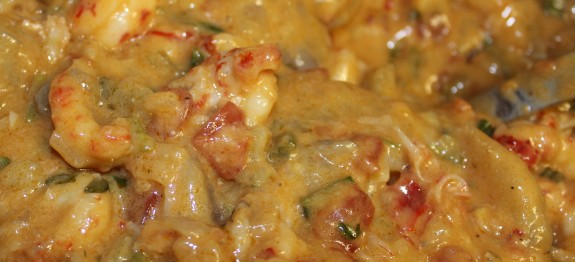 Yield :

8

Servings :

8

Prep Time :

20m

Cook Time :

45m

Ready In :

1:5 h
This is a Cajun etoufée made up of a mixture of various etoufée versions compiled from my family members and myself. It's very rich.
Ingredients
2 lbs peeled shrimp
1 stick butter
1/2 cup chopped celery
2 chopped onions
1 chopped green bell pepper
1/2 cup green onions (optional)
1 tbsp chopped garlic
1 tbsp cornstarch
1 tsp powdered garlic
1 tsp onion powder
1 cup cold water or chicken stock
1 tbsp paprika
1/2 cup parsley
Season Salt and Cayenne Pepper to taste
3 tbsp olive oil
2 tbsp tomato paste
Directions
Step 1
Season shrimp with season salt and set aside. Melt 1/2 stick of the butter in a large deep walled frying pan. Two frying pans can be used to cook the needed volume or one large deep cast iron or heavy aluminum pot. Add the finely chopped onions, bell pepper, celery and garlic.
Step 2
Cook over medium/high stirring constantly until soft. Sprinkle in onion and garlic powder to taste.
Step 3
Start cooking rice; I like using a rice cooker, it's easier.
Step 4
Into the frying pan, add shrimp, the second half of the butter, tomato paste, paprika, cayenne pepper (a couple dashes or as hot as you like it), and 1/2 cup of water. Cook over low heat for 30 minutes.
Step 5
Dissolve cornstarch in 1/2 cup of water and add to the pan along with parsley. Add the green onions now if you're using them. Cook about 15 minutes longer to desired consistency. Serve over rice. Cut recipe in half for smaller pots or less servings.