Bergeron's Baked Fish (Red Fish, Tilapia or Catfish)
2002-05-25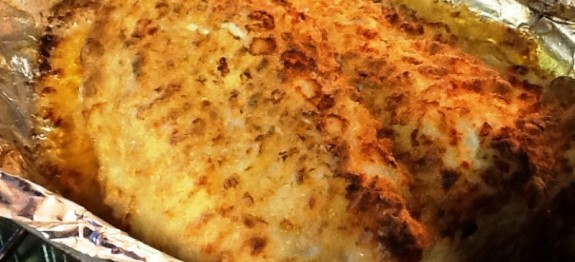 Yield :

4 servings

Servings :

4 servings

Prep Time :

20m

Cook Time :

45m

Ready In :

1:5 h
Fun Facts on Catfish from the Tennessee Aquarium
During the 19th century, giant blue catfish weighing from 125 to 200 pounds were reportedly caught on a regular basis. In his book "Steamboating: 65 Years on Missouri's Rivers," Capt. William Heckman described a 315-pound blue cat caught just after the Civil War.

The catfish has over 27,000 taste buds.

The walking catfish moves across land from one body of water to another. It uses its pectoral fins like legs and has a modified gill chamber to get oxygen from the air.

The largest confirmed record in the U.S. was a blue catfish weighing 150 pounds in 1879. The largest known blue caught in Tennessee was a 130-pounder, fished from the Fort Loudon Reservoir in 1976.

A female blue catfish can produce as many as 100,000 eggs at a time.