Recipe Type:
Canning Have more cucumbers than you know what to do with? And not much time to pickle? Try these easy no-cook pickled cucumbers. IngredientsCucumbers Vinegar Water 2 tbsp Cajun Seasoning per quart jar Salt and black pepper to tasteDirectionsStep 1Slice cucumbers (with peel) into 1/4 inch slices. Place into a quart ...
Read more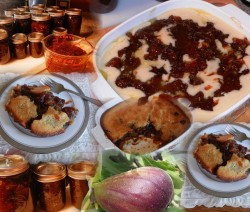 Create a great dessert with Fig Preserves and a "mashe pan" –  sweet "gateau sucre" cake topping type cake – one of the best!!! Ingredients1/4 cup butter or margarine 1 cup all purpose flour 1 cup sugar 2 tsp baking powder 1 cup milk 1 large egg or 2 small ...
Read more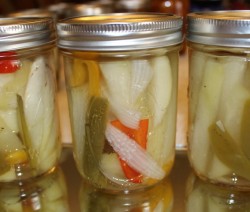 Used with gumbos or any rice and gravy dish in Cajun Country, chayote is a gourd-like squash that is about the size and shape of a very large pear. The skin is pale green and smooth with slight ridges that run lengthwise. Many compare the color to a light green ...
Read more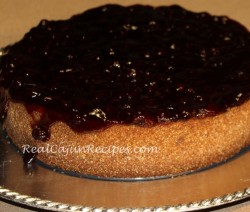 Friends come and friends go; this one just went but left behind her delicious cheese cake recipe. One of the best you will find. You can use the blueberry jam you made in lieu of the blueberry can filing for the topping. Ingredients1 1/2 cup graham cracker crumbs 2 1/2 ...
Read more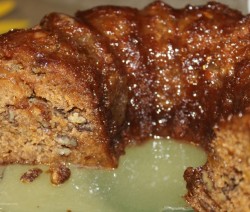 Figs are plentiful in Cajun country. As a result there are several classic, beloved recipes that are made with fig preserves. Ingredients1 1/2 cups sugar 2 cups all-purpose flour 1 tsp soda 1 tsp salt 1 tsp nutmeg 1 tsp cinnamon 1/2 tsp allspice 1/2 tsp cloves 1 cup canola ...
Read more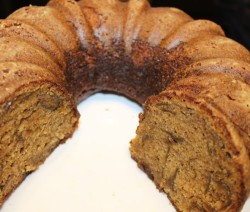 This recipe makes a moist cake filled with a mixture of fresh figs, and brown sugar. Ingredients2 cups brown sugar 1/2 cup oil 3 eggs 2 cups all purpose flour 1 1/2 tsp baking powder 2 tbsp water 1 tsp vanilla 1/2 tsp cinnamon 3 cups fig preserves 1 tsp ...
Read more Sweet and sour, but mostly sweet. Ingredients1 gallon jar Classic Kosher Whole Dill Pickles 5 - 6 cups sugar 6 cloves of garlic, slicedDirectionsStep 1Drain all of the juice in the gallon jar of pickes. Discard. Step 2Slice the whole pickles into 1/4 inch coins. Step 3Return the pickles to ...
Read more Ingredients1 gallon small pickling cucumbers 1/2 cup salt 2 onions, chopped 1 tbsp celery seed 1 1/2 tsp turmeric 2 tbsp mustard seed 1/2 tsp clove 5 cups vinegar 5 cups sugarDirectionsStep 1In a one gallon canning jar, add all the ingredients except the vinegar and sugar. Step 2 In ...
Read more