Recipe Type:
Canning Le feu et la glace conservent au vinaigre – a great Cajun snack. Ingredients1 gallon jug of dill sliced pickles 5 pounds sugar 1 2 oz bottle of Tabasco SauceDirectionsStep 1Pour the entire jar of pickles in colander; discard juice. Or better yet freeze the juice and make Pickle Juice ...
Read more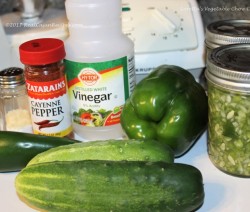 Loretta is like many Cajun cooks mixing up some of this and some of that. This recipe may be considered somewhat vague in directions but it is so good with rice and gravy and uses fresh vegetables from your garden that it is worth trying. Grandpa always has this on his ...
Read more So how do you pronounce "kumquats"? Many Cajuns say "ComQuarts" – dats me, guilty as charged. Ingredients3 cups kumquats 3 cups brown sugar 1 1/2 cup waterDirectionsStep 1Combine all ingredients and boil for 30 minutes. Step 2 Turn off the heat and leave in the pot for 24 hours. Step ...
Read more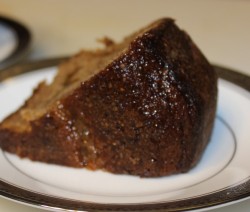 Grab those fig preserves that you have hiding in the kitchen cabinets and get to baking and make this rich, decadent Cajun fig preserve cake. Ingredients2 cups flour 2 cups sugar 1/2 cup cooking oil 1 cup buttermilk 3 eggs 2 cups fig preserves 1 cup chopped pecans 1 tsp salt 1 ...
Read more Chow Chow is a culinary term for any spicy or piquant preparation used to enhance flavour of plain food. In the UK, a thin pickle or sauce with a vinegar base; in the USA it includes finely chopped fruit or vegetables with a dressing of salt, sugar, and vinegar, sometimes ...
Read more This recipe is quick as the pectin provides the jelling action. Pectin is used as a thickener in jellies and jams and is available in liquid and dry forms. Ingredients6 cups peeled sliced pears 1 cup water 1 tbsp lemon juice 1 (2 oz) package sure-jell or powdered pectin 8 ...
Read more Fun Facts on eggs from the Department of Agriculture. Eggs age more in one day at room temperature than in one week in the refrigerator. Occasionally, a hen will produce double-yolked eggs throughout her egg-laying career. It is rare, but not unusual, for a young hen to produce an egg ...
Read more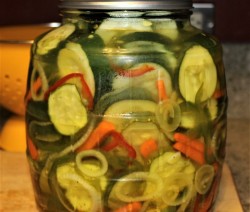 Ten days in the fridge to perfection. Pickles have been traced back thousands of years and are as popular as ever to this day. Serrano and jalapeno peppers may be added for a sweet and spicy taste. Ingredients3 cups sugar 1/3 cup pickling salt 1 tsp celery seed 3 cups ...
Read more