Recipes With Course:
Jams & Jellies So how do you pronounce "kumquats"? Many Cajuns say "ComQuarts" – dats me, guilty as charged. Ingredients3 cups kumquats 3 cups brown sugar 1 1/2 cup waterDirectionsStep 1Combine all ingredients and boil for 30 minutes. Step 2 Turn off the heat and leave in the pot for 24 hours. Step ...
Read more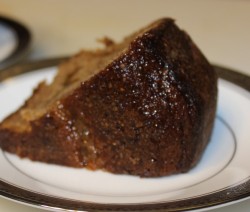 Grab those fig preserves that you have hiding in the kitchen cabinets and get to baking and make this rich, decadent Cajun fig preserve cake. Ingredients2 cups flour 2 cups sugar 1/2 cup cooking oil 1 cup buttermilk 3 eggs 2 cups fig preserves 1 cup chopped pecans 1 tsp salt 1 ...
Read more Besides being great to eat fresh and for canning, preserving and freezing, pears make a wonderful relish. Ingredients4 quarts ripe pears, peeled and quartered 1 dried hot pepper or 1/4 tsp cayenne 4 sweet green peppers, seeded and cored 1 pint dill pickles 1 quart chopped onions 2-3 cups sugar ...
Read more This recipe is quick as the pectin provides the jelling action. Pectin is used as a thickener in jellies and jams and is available in liquid and dry forms. Ingredients6 cups peeled sliced pears 1 cup water 1 tbsp lemon juice 1 (2 oz) package sure-jell or powdered pectin 8 ...
Read more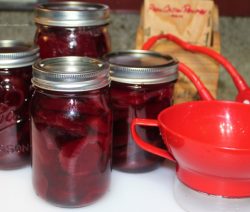 This recipe was from the authors grandmother. I can remember Momma taking her pickled beet juice and dying our Easter eggs. I even remember the vinegar smell. I always thought they were the prettiest shade of burgundy. What was in your basket? Ingredients2 quarts beets, boiled - sliced or cubed ...
Read more Everyone knows Cajuns love their figs. Diabetes is unfortunately a problem in Cajun Country, therefore regular processed figs should not be eaten by a diabetic. This recipe will allow the Cajun to have his "figs" and eat them too! Ingredients4 cups figs or pears, cooked 2 tbsp lemon juice 1 ...
Read more With the high rate of diabetes in the Cajun population, this is the perfect recipe to keep enjoying your figs! Ingredientstree-ripened figs 1 tbsp canned lemon per quartDirectionsStep 1Use tree ripened figs. Sort and wash carefully. DO NOT use soda for cleaning. It can make figs unsafe when canned plain ...
Read more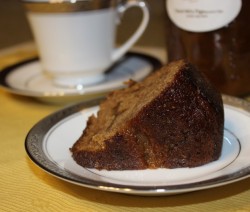 Most people have had dried figs (especially in fig newtons!), but fresh figs are a real treat, especially when used in a fig cake – la gâteau de figue! Ingredients1 1/2 cup sugar 1 1/2 cup figs 3 eggs 1 stick butter 1 tsp baking soda 2 tsp baking powder ...
Read more