Recipes by

W. Faulk ...nd dry ingredients together. Chill the dough. The dough is easier to roll and shape if you refrigerate it for at least 4 hours or overnight. Step 5 Roll the dough in a mixture of sugar, flour and nutmeg. Cut in squares, fill with smashed canned figs, fold over and ...
Read more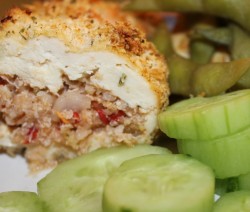 ...losed. Dip the chicken in the egg and milk mixture and pass in the coating. You can choose to season either the chicken or the coating. Step 5 Cook the chicken in hot oil until the coating turns brown and the meat runs clear when pricked with a fork. Remove ...
Read more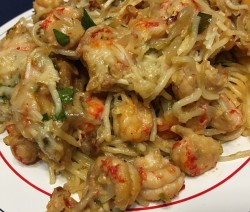 ...No Problem – Leave it off Ingredients 2 - 3 pounds crawfish (the more the better) 1 large onion 1 large bell pepper 1 stick butter 3 tbsp olive oil 1 can cream of mushroom 1 can shredded Parmesan cheese (16oz) 1/2 cup white wine Angel Hair Pasta Sun-dried Tomatoes ...
Read more ...2 cup margarine or butter 1/4 cup sherry or chicken broth 1 can crab meat small Celery Salt to taste Dried Celery Flakes to taste Directions Step 1 With a tenderizer hammer, flatten the chicken breast. Step 2 In a separate bowl combine the water and beaten eggs. Step 3 ...
Read more ...snapper 1 can Rotel Brand tomatoes (optional) Directions Step 1 Preheat oven to 400 degrees. Fry bacon in a skillet. Remove the bacon and wilt the onions in the bacon fat. Add tomatoes (and Rotel) breaking and chopping them with a spoon. Step 2 When the mixture is bubbling, add ...
Read more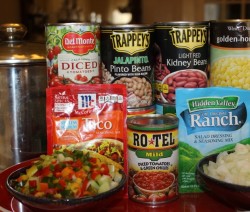 "This is a recipe that has passed through my family for a few years now. Of course, I'd take the version that my grandmother, Mrs. Nolia Faulk, passed on to my father, Kendal Faulk, and put my own twist on it. My Southwestern Grilled Chicken Soup is fairly heart healthy ...
Read more ...en up into pieces, along with the 2 cups of cooked rice. Season with black pepper, cayenne, onion and/or garlic powder and salt. Easy on the salt as the soup provides a good deal of the salt needed for this recipe. Add water to the desired softness and simmer for ...
Read more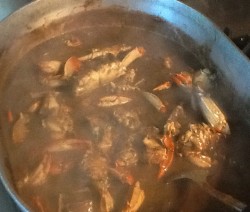 ...x is made, add the onion, bell pepper and celery to the mixture and sauté for 5 minutes. Add the garlic and cook 3 minutes more. Add the water, stir and mix thoroughly to desired consistency. Step 2 Continue cooking over a low fire while you make the meatballs, stirring ...
Read more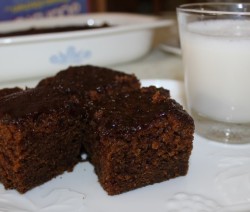 ..."a little bit of this and a little bit of that." After trying to get a more exact recipe out of Nan Boone for years, her daughter, "Nanny" Ouida, watched over her shoulder as she made the syrup cake. Nanny wrote down all the instructions and passed it around the ...
Read more Boneless, skinless chicken breasts stuffed with fresh venison sausage. A spicy blend of Cajun cuisine that will please everyone's taste buds. Ingredients 6-8 skinless, boneless chicken breasts 1/3 cup dry white wine 1/2 lb venison sausage 1/2 cup jalapeno peppers, chopped 1 onion, chopped 1 bell pepper, chopped 2 tbsp ...
Read more ...g garlic to the butter and slightly lower the heat. Simmer for 30 seconds and then add mixture of chopped bell pepper/onion. Step 3 Sauté these ingredients until the vegetables become slightly wilted (onions will begin to brown). Now add the Rotel Tomatoes (including the liquid in the can) and ...
Read more ...I moved to Kansas City, Missouri, I ran across a problem: I wanted to make traditional Cajun food, but did not have all of the ingredients I needed available to me. This recipe is representative of the Cajun lifestyle, using what we have around us, and making something great out ...
Read more One of our more "Guilt-Free Cajun Creations" Our author writes, "This is another one of my somewhat Heart-Healthy recipes. There are a few open markets here in Kansas City, and one day, while walking through the famous City Market, I stumbled upon a vender selling the odd combination of spinach ...
Read more ...ice onto a plate. Brown rice is a healthier alternative to white rice. Step 8 Ladle the soup around and over the rice. Garnish with fresh parsley. Step 9 To add a little more "Cajun" to this dish, or to add more protein, throw a few sautéed shrimp into the ...
Read more