Recipes by

Vickie Lege Vickie Lege In memory of her Mom Lois Mayard From the author – My mother had some good recipes and most of them she didn't write down. I just learned from experience while watching her (when she would let me in the kitchen!) These Lemon Bars are a tradition in ...
Read more Vickie Lege on behalf of her Daughter Amy Hazelwood   Cajun Cooking Mexican = This enchilada casserole is great for a side dish or main dish. Ingredients 2 lbs ground beef 1 package Corn Tortillas Chips 2 (10 oz) cans cream of mushroom soup 2 (10 oz) jars enchilada sauce ...
Read more Vickie Lege In Memory of her Mom Lois Mayard This recipe comes from my mom's recipe box. The strawberries are everyone's favorite and since Mother's Day is in May, it is a perfect way of saying I love you by making her this wonderful moist cake. Since strawberries are in ...
Read more I had forgotten about this old favorite recipe. When my children were younger this was a fast great for holiday candy. The shoestring potatoes give this candy its haystack effect. They are also known as Easy Chocolate Drops or Chip Stick Peanut Candy. Another reader writes: These candies are great ...
Read more Trifles are a cold dessert, made both plain and elaborately decorated. This dessert can be made with sherry, fruit juice or liqueur-soaked sponge cake in the base of a large or individual serving dish, covered with layers of fruit, jelly, custard and whipped cream in various combinations. It is very ...
Read more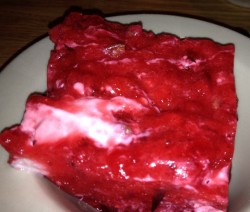 Great for potluck, holiday affairs or family gatherings. Ingredients 1 (12 oz) can condensed milk 1 (16 oz) can crushed pineapple 1/4 cup lemon juice 1 (16 oz) can whole berry cranberry sauce 2 cups marshmallow 1/2 cup pecans 1 (16 oz) carton whipped topping Maraschino cherries to top Fresh ...
Read more