Recipes by

Vickie Lege ...she would let me in the kitchen!) These Lemon Bars are a tradition in my family at Christmas time. The recipe can be doubled for larger crowds. Ingredients Dough Ingredients: 1 cup butter (2 sticks) 1 cup confectionary sugar 2 cups all purpose flour 1/2 cup walnuts or pecans Pinch ...
Read more Vickie Lege on behalf of her Daughter Amy Hazelwood   Cajun Cooking Mexican = This enchilada casserole is great for a side dish or main dish. Ingredients 2 lbs ground beef 1 package Corn Tortillas Chips 2 (10 oz) cans cream of mushroom soup 2 (10 oz) jars enchilada sauce ...
Read more ...tands and farmers markets. Happy Mother's Day to all our Moms and the men who had to be Mom's too! Ingredients 1 box white cake mix 3 tbsp (heaping) all-purpose flour 1 large box strawberry Jell-O 1 cup oil 4 eggs 2 cups chopped strawberries 1/2 stick butter 1/2 cup ...
Read more ...semisweet chocolate chips 1 (6 oz) package butterscotch chips 1 cup shoestring potato sticks 1 cups salted peanuts (alternative: sweet potato sticks) Directions Step 1 In a 2 quart microwave safe bowl, heat chips on high for 2 minutes or until melted. Stir at least once during the melting process. ...
Read more ...easy and yummy; great for summer cookouts and potluck dinners. Ingredients Angel Food Cake 30 ounces Tropical Fruit, drained 30 ounces Fruit Cocktail, drained 30 ounces Crushed Pineapple, drained 16 ounces of Cool Whip large 2 cups Fresh Strawberries 1 cup Walnuts or Pecans Trifle Bowl or Deep Tupperware Bowl ...
Read more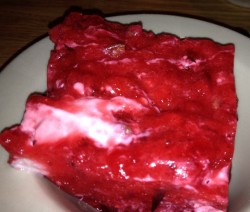 Great for potluck, holiday affairs or family gatherings. Ingredients 1 (12 oz) can condensed milk 1 (16 oz) can crushed pineapple 1/4 cup lemon juice 1 (16 oz) can whole berry cranberry sauce 2 cups marshmallow 1/2 cup pecans 1 (16 oz) carton whipped topping Maraschino cherries to top Fresh ...
Read more