Recipes by

V. L. Bourque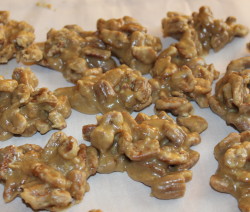 Another classic praline recipe for holiday gift giving or just to keep for yourself. Ingredients 2 cups white sugar 1 cup light brown sugar 1 stick butter 1 cup milk 2 tbsp Karo white syrup 4 cups pecan halves 2 tsp vanilla extract Directions Step 1 Combine all of the ...
Read more ...n eggplants were plentiful and shrimp were to be had, Momma would make this simple eggplant dressing. Cooking for 9 children always kept Momma busy. Ingredients 2 large eggplants 1 large onion, chopped 3 cups cooked rice 1 bell pepper, chopped 1/2 cup parsley, chopped 2 tbsp oil 1/2 cup ...
Read more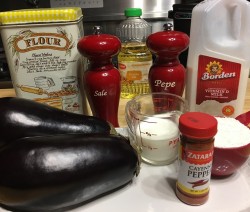 Great by themselves or in a rice dressing. Ingredients 1 large eggplant peeled and medallion sliced 1 egg, slightly beaten 1/4 to 1/2 cup of water or milk 1 cup all purpose flour 1/2 tsp salt 1/2 tsp black pepper 1/2 tsp cayenne (optional) Sprinkle of granulated sugar Oil for ...
Read more ...fig preserves. Ingredients 1/4 cup water, lukewarm 1/2 package granular yeast or 1/2 cake compressed yeast 1 cup very warm to hot liquid (milk or water) 1 tbsp to 1 1/2 tbsp sugar 1 tsp salt 1 tbsp shortening 3 cups or more all purpose flour Directions Step 1 In ...
Read more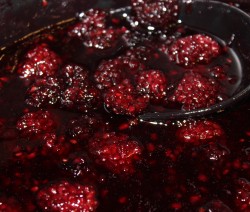 Snakes and Blackberries go hand in hand. If you have ever picked blackberries you probably know that, already! The picture shown is the blackberries cooking before adding the dumpling. Ingredients BLACKBERRIES 1 gallon blackberries 4 cups sugar (may need 5 cups) 3 quarts water DUMPLINGS 1 1/2 cup self-rising flour ...
Read more ...s lukewarm water 1 packet of Fleishman's rapid rise yeast 1 tbsp cooking oil 1/2 tsp salt 4 1/2 cup room temp flour Directions Step 1 In cup, mix 2 cups of lukewarm water and 1 packet of Fleischmann's rapid rise yeast, mix well Step 2 Add 1 tbsp of ...
Read more As a young child my Grandma made a bouille (pudding) that I dearly loved. I never learned how to make it from her. Visiting my Nanny Ruby one day, I asked if she knew how to make it. She knew how but didn't have a written recipe. She offered to ...
Read more ...My Momma use to fix this for her children Ingredients Honey Whiskey Lemon Directions Step 1 Equal parts of each Step 2 Mix and Stir Share this: Facebook Pinterest Twitter Email Print More LinkedIn Reddit...
Read more Ingredients 3 cups fresh blackberries 2 cups sugar 1 cup flour 1 egg 1 stick butter, melted 1 teaspoon vanilla 1 teaspoon baking soda 1 teaspoon baking powder 1 teaspoon salt I teaspoon vanilla Directions Step 1 Wash berries then place on paper towel in 9 x 13 pan to ...
Read more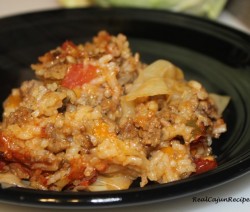 In South Louisiana there are plenty of Nanan' (Cajun french for Marraine (godmother) and of course the Paran (godfather). The girl godchild is called "filleile" and the boy is called the "filleul'. My filleile loves to prepare this easy dish for her children. Ingredients Cabbage Filling: 1 lb ground beef ...
Read more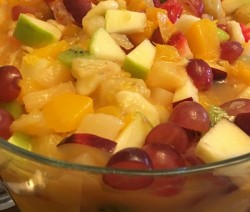 ...that contain different kinds of fruit, or that use a different kind of sauce other than the fruit's own juice or syrup. This recipe is a variation of a most delightful fruit salad – that magic ingredient brings all the flavors out Ingredients 1 29oz can of peaches cut up ...
Read more ...ins would be great to use – Cut the pumpkin in half, removing the seeds and pulp. Place face down on a buttered or greased cookie sheet. Bake in the preheated oven one hour, or until tender. Scrape pumpkin meat from shell halves, remove stringy pieces and puree in a ...
Read more ...Great Cajun Classic!! When the author shared this recipe with her MeMaw, she commented that she was not fond of it. Her words "I don't care much for quick or short cut recipes", or as the author likes to call them "lazy recipes". Once MeMaw sampled the dish, she was ...
Read more