Recipes by

Toni Touchet Foreman A recipe was born when my friend Toni wanted coconut sweet tart pies. Using my Mom's basic bouillie recipe, the recipe was modified to a sweet tart filling with the addition of three coconuts – canned cream of coconut, flaked coconut and coconut extract. Along with sweet dough tarts, mini ...
Read more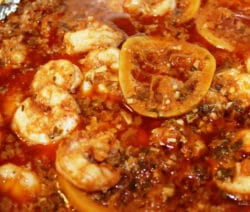 Although Hitachi makes many appliances, almost every Cajun who bought a rice cooker called it by its manufacturer name – a Hitachi! Although not BBQ'ed these shrimp have a buttery smoky flavor Ingredients 2 - 3 pounds shrimp (depending on how many will fit into your insert dish) 1/2 stick ...
Read more