Recipes by

Tessie Duhon We have always loved crawfish fettuccini but didn't quite care for all the cheese. It seemed to make it too thick and sometimes too dry. The changes I made also stretches the serving quite a bit. Ingredients 2 pounds Louisiana crawfish 1 stick butter 2 onions 2 bell peppers 1 ...
Read more This side dish is a great sidekick for barbecue brisket or grilled meats. It also makes a great stuffing for bell peppers. Ingredients 1 pound small shrimp 1 pound Louisiana crawfish 1 bell pepper, chopped 2 stalks celery, chopped 1 onion, chopped 1 clove of garlic, minced 1 bunch scallions ...
Read more Jambalaya is possibly the most versatile of the traditional Southern dishes along with gumbo. Ingredients include a combination of rice, vegetables and meat, poultry, or seafood. This version is made with fresh sausage and smoked sausage. Ingredients 4 pounds pork fingers, cut up (best if it has lots of meat) ...
Read more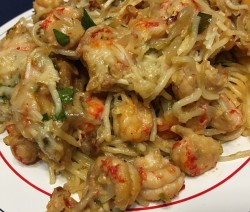 Angel hair pasta compliments this light, delicate sauce. No crawfish – Use Shrimp Great Lenten Dish – Don't like Eggplant – No Problem – Leave it off Ingredients 2 - 3 pounds crawfish (the more the better) 1 large onion 1 large bell pepper 1 stick butter 3 tbsp olive ...
Read more Some peppers are hotter then others but I find the hotter, the better (use at your own risk!). These are absolutely delicious. Once you start eating them, you can't get enough. These are always gone within minutes. Take note: this recipe doesn't work with fat free cream cheese. Ingredients 20 ...
Read more