Recipes by

Ruth Broussard ...This two-ingredient cake is one of our simplest recipes. Ingredients 1 box pound cake 1 large pineapple can 16oz Directions Step 1 Do not drain juice from pineapple can; combine the cake mix and pineapple. Step 2 Pour in a well-oiled pan and bake at 350 for 45 minutes. Share ...
Read more Goulash originated in Eastern Europe, but is now commonly made in Southwest Louisiana. Ingredients 5 pounds meat mixture (1/2 beef and 1/2 pork) 1 pound grated cheddar cheese 3 cans cream of tomato soup 5 cans mushroom 5 large onions chopped 2 large bell peppers chopped 3 or more cloves ...
Read more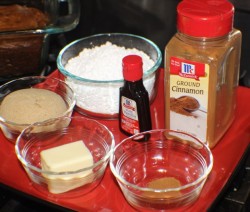 Perfect frosting for a nice change from powdered sugar frosting Ingredients 1/4 cup (3 tablespoon) butter 1/2 cup firmly packed brown sugar 1/2 teaspoon cinnamon 2 tablespoon evaporated milk 1 teaspoon vanilla extract 1 1/2 cups powdered sugar or more if needed 1/2 cup chopped pecans, toasted Directions Step 1 ...
Read more A quick and easy glaze for cinnamon rolls, bundt cakes or cookies. Ingredients 2 tablespoons butter, softened 1 1/2 ounces cream cheese room temp 3/4 cup powdered sugar 1 tablespoon half-and-half or evaporated milk 1/4 teaspoon vanilla extract Directions Step 1 Beat cream cheese and butter until very creamy. Step ...
Read more In some parts of the American South, any mixture of vegetables prepared with lima beans and topped with lard or butter is called succotash. This one uses okra, which gives it a Cajun flair. Ingredients 9 legs - 8 thighs 3 cans green beans large 3 large red potatoes box ...
Read more