Recipes by

Robin Petit Robin says: "This soup my grandmother made all the time. I use to love it. Just thinking about it I will have to make some :o)" Ingredients 2 pounds peeled shrimp 1 large onion sliced 5 medium potatoes 1 can biscuit dough or homemade biscuits 2 tbsp cooking oil salt, ...
Read more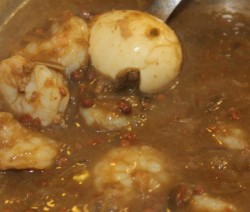 Cajun are really a unique culture and there are regional differences in both language and food. There are so many different types of gumbos. The file' and a small amount of roux are used for the thickening agent. Ingredients 2 pounds shrimp peeled and cleaned 2 large onions chopped 2 ...
Read more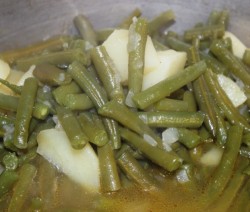 Green beans also known as string beans or pole beans are a traditional family favorite. They are very familiar side dish on the holiday table. It is also a great and tasty dish served over rice. Ingredients 6 cans green beans drained 5 medium potatoes peeled and quartered 1 large ...
Read more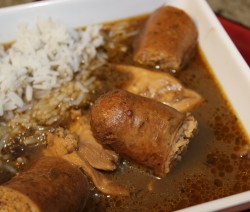 This gumbo is a favorite of my family, my aunt taught me how to make it. Ingredients 1 large chicken cut up 1 large onion 1 link Andouille sausage 1/4 cup cooking oil 2 large spoons flour 1 bunch scallions green onions 2 tbsp file' 1 link smoked sausage salt, ...
Read more Have you ever heard of the dish called gumbo "vert' vah? If you have not, this is a dish with spinach cooked with ground meat or ground turkey. My kids love it and request it alot. Some people can't get over how they ask for it. My grandmother used it ...
Read more This is a stew made like chicken fricassee; you just add baby lima beans. Very tasty. My grandmother made it all the time. She just made it spicier than I would. But then I loved her spicy food. Ingredients 2 whole chickens cleaned and cut 2 large onions chopped 2 ...
Read more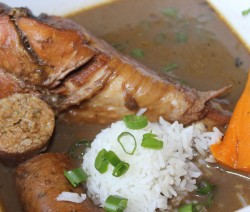 This gumbo is a favorite of my family. My aunt taught me how to make it. Editor's Comment: Andouille Sausage in a dish is used as flavoring agent. Ingredients 1 whole cut up chicken 1 large onion 1 link of Andouille sausage 1 link of smoked sausage 1/4 cup cooking ...
Read more A biscuit my grandmother used to make. I remember her rolling it out and cutting it with one of her aluminum glasses. Ingredients 2 cups all-purpose flour 2 tsp baking powder 1/2 tsp baking soda 1/2 tsp salt 1/4 cup shortening 3/4 cup milk Directions Step 1 In a bowl, ...
Read more A dressing made form sweet potatoes. My grandmother use to stuff her turkey with this dressing. Great for your holiday cooking. Ingredients 1 pound sweet potatoes - about 3 mediums 1 tsp salt divided 1/4 cup plus 2 tablespoon Shortening or Butter Flavor stick divided 1 cup chopped celery 1/4 ...
Read more