Recipes by

Ms. Sweets ...tails 1 (10 oz) can Rotel tomatoes 1 onion, chopped 1 bell pepper, chopped 1 stalk of celery, chopped 1 stick butter 2 cups water Directions Step 1 In a large pan, cook vegetables in butter until soft. Add the can of Rotel and simmer until all the water from ...
Read more The measurement for can is correct. Use the shrimp can for the measurements noted. Ingredients 2 cans small shrimp, drained 2 cans celery, finely chopped 2 cans chives or onion tops, finely chopped 2 cans mayonnaise 2 tbsp mustard Red pepper, to taste Tony Chachere's Cajun seasoning, to taste Tabasco ...
Read more Ingredients 4 cups flour 2 1/2 cups sugar 1 cup butter 4 eggs 2 tsp baking powder Canned figs 1 tsp vanilla Handful of flour and sugar for the dough Pinch of nutmeg Directions Step 1 Preheat oven to 350 degrees. Step 2 Cream the butter, eggs, vanilla and sugar. ...
Read more My friend's mom used to make these for us we were in high school. They were our favorite! Since we are all grown and moved out, we don't see each other very often. So, out of the blue, I called her and she gladly gave me her recipe. I didn't ...
Read more Delicious pork roast prepared on a grill. This recipe was given to me by my Cajun cousin, Sally Sonnier Hand. It may have originated with her dad, Uncle Otis Sonnier. Wherever it came from it is a delicious Cajun way to cook a pork roast and I think it will ...
Read more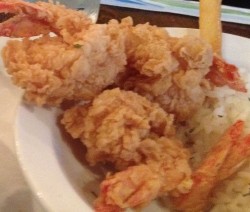 Back in the day, when you were hungry after a night of fun dancing in Kaplan, you would head out to the Vermilion Cafe to replenish your energy for the next time. If you had the privilege of meeting Ms. Inez, you knew you did not want her giving you ...
Read more This is one of the recipes that I simply love – saving a heritage recipe for future generations. The submitter, Veronica, stood behind her husband's mother, Ms. Audrey, and measured the ingredients before the Ms. Audrey "threw it and mixed it her bowl". In memory of Ms Audrey Bourque Ingredients ...
Read more The author writes that this is the BEST coleslaw she has ever eaten. Ingredients 1 head of shredded cabbage 4 carrots or more 1 cup sugar 3 tbsp mayonnaiae 1 tbsp vinegar Directions Step 1 Shred cabbage and carrots, mix well. Step 2 In separate bowl, combine 1 cup of ...
Read more Ingredients Ingredients 1/2 cup white uncooked rice 1/2 lb cheddar cheese 1/4 tsp pepper 2 tbsp minced onions 3 cups shredded carrots 2 eggs, beaten 1 1/2 tsp salt 1/2 cup milk Directions Step 1 Cook rice. Preheat oven to 325 degrees. Step 2 After rice is cooked add the ...
Read more Sugar cane is a popular crop in Southern Louisiana. Whether it's in sweets, Steen's syrup, or pies, we love it. Ingredients 5 eggs 3/4 cup sugar 1/2 tsp cinnamon 1/2 tsp allspice 2 cups cane syrup 1 stick margarine or butter 1 tbsp flour 1 (9 inch) unbaked pie shell ...
Read more The most classic of our sweets is the sweet tart (small pies with filling). These can be filled with any filling of choice, although fig, coconut, bouille and blackberry are some of the all-time favorites Ingredients 1 block (8 tbsp) margarine or butter 2 tbsp shortening 2 eggs 1 cup ...
Read more Sweet dough tarts (pastry stuffed with a sweet filling) are the most popular of the classic sweets enjoyed by Cajuns. This recipe gives a new twist to your basic sweet dough and fig preserves. Ingredients 1 recipe sweet dough 1 quart fig preserves Directions Step 1 Both above recipes can ...
Read more