Recipes by

Jan Schexnider Mayard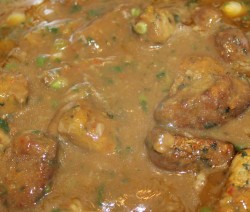 This dish is a labor of love, but well worth every minute. In this recipe, the crawfish heads are stuffed with a breading mixture. Collecting the crawfish heads after a crawfish boil is a great time to do this. As a note: clean the crawfish heads of the membranes and ...
Read more One of the more popular classic Cajun soups made easy; this one will really "hit the spot". This recipe is dedicated to Howard Menard. Ingredients 1 (10 oz) box frozen corn 1 medium onion, chopped 1 block butter 1 can Campbell's cream of shrimp soup 1 cup water 5 tbsp ...
Read more