Recipes by

J. Vice ...taste Salt and black pepper to taste 1/2 cup parsley, chopped fine 1/2 cup green onions, chopped fine 2 medium onions, chopped fine 4 stalks celery, chopped fine 1 (8 oz) can tomato sauce Sauce 1 (6 oz) can V-8 juice 1/2 cup Jack Miller Bar-b-que sauce 1 1/2 cups ...
Read more ...(and vice versa) in equal measure. Place 1 cup of pineapple chunks in a blender and put it on "chop" setting for 30 seconds. Pour out the crushed pineapple into a separate bowl. In addition, when making pineapple juice in a juicer, you get about 1.5 cups or 11 ounces ...
Read more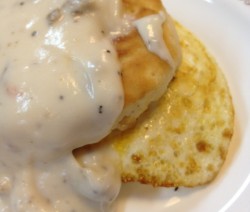 Chipped beef served on toast or biscuits has long been know by its alternative name which we can not enter on our site – SOS – Something on Shingles. Ingredients 1 lb ground beef 1/3 cup minced onions 3 tbsp butter or margarine 3 tbsp flour 2 cups milk Salt ...
Read more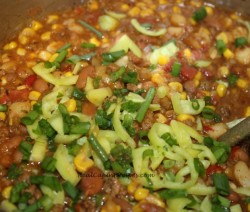 The flavor is tremendous and the ease of preparation surprising. Ingredients 1 (15 oz) can Ranch Style Beans with Jalapeno onions (with liquid) 1 (15 oz) can Golden Hominy and/or Black Beans (with liquid) 1 (15 oz) can Whole Kernel Corn (with liquid) 1 lb ground meat 1 (10 oz) ...
Read more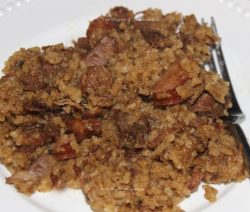 In Memory of Joseph Wayne "Tee Wayne" Abshire Wayne Abshire, Vice President of the Jambalaya Festival in Gonzales, gave us his very own prize winning Pork Backbone Sausage Jambalaya recipe. Ingredients 3 cups rice 2.5 lbs pork backbone 1.5 lbs smoked sausage 1 lbs yellow onions 6 cups water 2 ...
Read more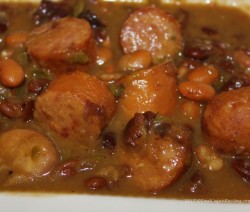 ...nce flavor. Ingredients 1 pound dried red kidney beans 1 medium yellow onion diced 1 medium bell pepper diced 4 ribs celery finely diced 1 pound smoked pork sausage, 1/4 inch diced 6 strips thick cut smoked bacon, finely cut julienne style 4 cloves minced garlic 5 whole bay leaves ...
Read more Another great version of a Cajun classic. Ingredients 2 pounds ground meat chuck preferred 1 can Rotel Brand tomatoes mild or hot 1 onion chopped 1 cup celery (chopped fine) 3 garlic finely chopped 1 can Dawn mushroom steak sauce 3/4 cup toasted bread crumbs 8 to 10 bell peppers ...
Read more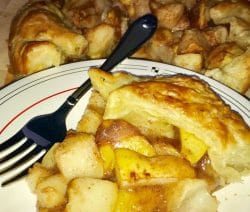 Puff pastry is a flaky light pastry made from a laminated dough composed of dough and butter or other solid fat. The butter is put inside the dough (or vice versa), and the dough is repeatedly folded and rolled out before baking. similar to making a croissant – Wikipedia Using ...
Read more