Recipes by

G. Mayard Ingredients 1 cup chopped pecans 1 package yellow cake mix 1 package French vanilla instant pudding 1/2 cup vegetable oil 1/2 cup and 2 ounces rum 4 eggs 1 stick butter 1 cup sugar 1/4 cup water Directions Step 1 Preheat oven to 325 degrees. Step 2 Sprinkle chopped pecans ...
Read more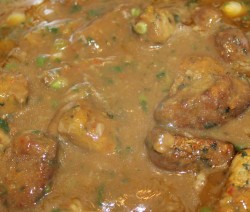 ...minute. In this recipe, the crawfish heads are stuffed with a breading mixture. Collecting the crawfish heads after a crawfish boil is a great time to do this. As a note: clean the crawfish heads of the membranes and cartilage leaving only the carcass. If you do not use them ...
Read more ...mas time. The recipe can be doubled for larger crowds. Ingredients Dough Ingredients: 1 cup butter (2 sticks) 1 cup confectionary sugar 2 cups all purpose flour 1/2 cup walnuts or pecans Pinch of salt Topping Ingredients: 4 eggs, slightly beaten 2 cups granulated sugar 6 tbsp lemon juice Grated ...
Read more ...e stands and farmers markets. Happy Mother's Day to all our Moms and the men who had to be Mom's too! Ingredients 1 box white cake mix 3 tbsp (heaping) all-purpose flour 1 large box strawberry Jell-O 1 cup oil 4 eggs 2 cups chopped strawberries 1/2 stick butter 1/2 ...
Read more ...te pie is easy to make and could be used with any flavor Jell-O pudding. The recipe is very rich. You may substitute sugar free Jell-O and low fat cream cheese for the original. Ingredients 1 cup flour dash of cinnamon, nutmeg, sugar 1 block butter not margarine (8 tblsp) ...
Read more One of the more popular classic Cajun soups made easy; this one will really "hit the spot". This recipe is dedicated to Howard Menard. Ingredients 1 (10 oz) box frozen corn 1 medium onion, chopped 1 block butter 1 can Campbell's cream of shrimp soup 1 cup water 5 tbsp ...
Read more