Recipes by

Della Norris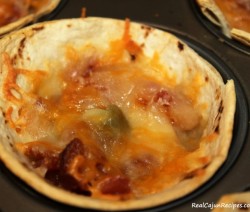 Shrimp used in a fresh new way. Ingredients One pack small round tortillas 1/2 stick of butter (4 tablespoon) Cajun Seasoning garlic powder and onion powder (optional) Shredded cheddar cheese Shredded pepper jack cheese Jalapeno pepper rings seeded or canned pepper rings 6 slices of bacon cooked and chopped coarsely ...
Read more There are as many ways to cooks bread pudding as there are Cajun Cooks – all are winners. Ingredients 5 cups state bread pieces 4 cups whole milk 3 eggs well beaten 2 cups sugar 4 tablespoons butter 1 cup coconut 1 teaspoon vanilla Directions Step 1 Place bread pieces ...
Read more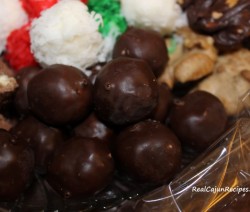 One bite and you are hooked. These are so good and perfect for sharing as the cook does every holiday season. Ingredients 1 pound pecans, chopped 1 stick butter - 8 tablespoon 1 can condensed milk 1 can coconut 1 1/2 pound powdered sugar 2 giant chocolate bars 1 small ...
Read more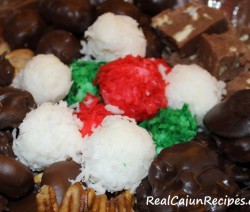 Melt in your mouth bon-bons. So festive for holiday sharing. Ingredients 2 cups powdered sugar 1 - 3 ounce package cream cheese 1 cup grated coconut 1/2 teaspoon vanilla candied cherries optional optional red and green food coloring pecans, dates or apricot for center optional Directions Step 1 Work sugar ...
Read more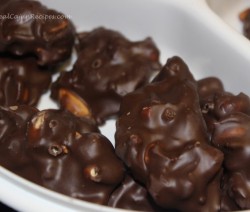 Holiday candy – Great for sharing   Ingredients 1/2 pound sweet chocolates (Nestles Semi Sweet Morsels) 1 -14oz can condensed milk 1 cup unsalted peanuts Directions Step 1 Melt chocolate over water in a double boiler or in microwave. Step 2 Remove from heat and add the condensed milk and ...
Read more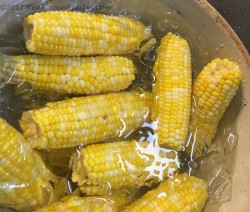 Fresh corn on the cob anytime you want.     Ingredients Fresh Corn shucked and cleaned Water Freezer Bags Directions Step 1 Blanching and Cooling time depends on the Diameter Size of the corn Step 2 Small corn 1 inch - 7 minutes Medium corn 1 1/4 to 1 1/2 ...
Read more