Recipes by

D. Duhon ...Using a 24 miniature muffin pan, press and shape the dough balls into miniature pie crust. Step 4 Bake 325 degrees for 15 to 20 minutes or until light golden brown. Step 5 Cool. Serve on a platter next to the dip of your choice and let your guest fill ...
Read more ...cked) 2 eggs 2/3 cup sour milk or buttermilk 4 cups sifted flour 1 tsp baking soda 1 tsp salt 1 cup pecans chopped 2 cups chopped dates 2 (4 oz) cans of candied fruits and peels Directions Step 1 Cream shortening and sugar. Add eggs and mix well. Step ...
Read more Ingredients Ingredients 1 Devil's Food Cake mix 2 boxes chocolate pudding mix 2 small tubs of cool whip 1 package Oreo cookies Directions Step 1 Make the Devil's Food Cake and the chocolate pudding as directed in their instructions. Step 2 In a 9x12 or 8x8 dish, crumble 1/2 of ...
Read more ...elery 2 cloves garlic 1 can cream of mushroom soup 1 can cream of shrimp soup 1 pint half and half 1 pound Mexican Velveeta, cut in cubes 1 cup grated parmesan cheese Directions Step 1 Sauté vegetables in butter until soft. Add half & half, adding a little at ...
Read more ...Double recipe of cornbread Directions Step 1 Make your corn bread ahead of time so it can cool. You can use your own recipe or a box mix, but make sure to make 2 batches. Step 2 Crumble up cooled cornbread in a baking pan. Add chopped vegetables, crawfish, shrimp ...
Read more ...up and season pork meat. Brown until it makes a good brown crust on the bottom of the pot. (Black pot recommended) Step 2 Once that is brown, brown fresh sausage and smoke sausage. Remove meat from pot and set aside. Step 3 Add onions, bell peppers, garlic and ROTEL ...
Read more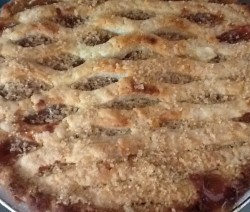 ...repare the pie crust and set aside. Step 2 In a large bowl, combine the sugar, cinnamon, nutmeg, clove and ginger. Step 3 Combine with the sliced apples and pears. Step 4 To prevent a soggy crust; brush enough of the lightly beaten egg white to coat the bottom of ...
Read more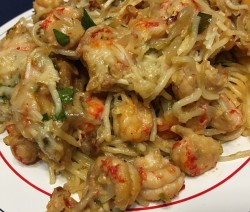 ...1; Don't like Eggplant – No Problem – Leave it off Ingredients 2 - 3 pounds crawfish (the more the better) 1 large onion 1 large bell pepper 1 stick butter 3 tbsp olive oil 1 can cream of mushroom 1 can shredded Parmesan cheese (16oz) 1/2 cup white wine ...
Read more ...p in bacon. Step 4 In a single layer, place them on a cookie sheet and bake at 375 degrees for 30-40 minutes or until the bacon looks brown and cooked. Remove them from the greasy pan and place them on paper towels to drain before putting them on your ...
Read more