Recipes by

Chrissy LeMaire This South Beach friendly soft taco recipe is low carb and quick to make. This is a Nouveau Cajun dish for all you Cajuns following a low-carb lifestyle. Ingredients 1 piece tasso 2 small low-carb wheat tortillas 1 cup cheddar, shredded 1 cup lettuce, shredded 1 tomato, cubed 1/2 purple ...
Read more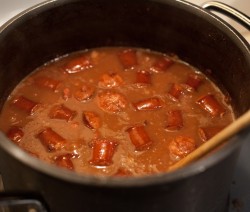 Traditionally Cajuns prepared the red beans and sausage first then served it over rice rather than cooking it all together. Ingredients 1 lb red kidney beans 1 large onion, chopped 1 bell pepper, chopped 1 garlic clove, minced 1 lb smoked sausage, cut in 1/2 inch pieces 1 ham-bone with ...
Read more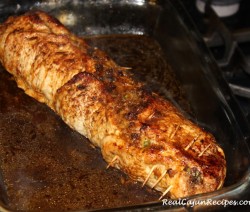 Ingredients 1 pork loin 2 Andouille sausages 2 tbsp Tony Chachere's Seasoning 2 cups water 1 cup pureed fig preserves Directions Step 1 Preheat oven to 350 degrees. Step 2 Place pork loin on a cutting board and, using a long knife, slice into the pork loin along the length, ...
Read more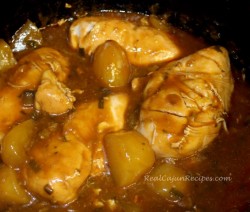 This is an old Cajun classic that has a many variations. This is my version 🙂 Ingredients 1 onion, chopped 2 cloves garlic, chopped 1/2 bell pepper, chopped 1/8 tsp cayenne 1/4 tsp black pepper 1/2 tsp onion powder 1 tsp McCormick Season All 2-4 chicken breasts 1/3 jar Savoie's ...
Read more Chrissy's uncle sent us this prodigious recipe Prodigious you say… why not just say impressive Ingredients 3 pounds venison or beef 1 cup soy sauce 1 cup Worcestershire sauce 1 tsp salt 1/2 cup teriyaki 1 tsp black pepper (peemon noir) 3 or 4 tsp Tony Chachere 3 tsp or ...
Read more Stuffed Pasta Shell with Goat Cheese, Smoked Alligator Sausage, Crawfish, cream and spices – One of our realcajunrecipes.com co-founder Chrissy LeMaire favorite appetizers! From the owners of PJ's – "Christina LeMaire came to PJs to eat recently. Please tell her hello and thank you for a really great web site. ...
Read more Mawmaw always cooked these at Christmas time. Ask Chad, Colby and Chrissy what they think of these. Ingredients 2 3/4 cups flour 2 1/2 tbsp baking powder 1/2 tbsp salt 2/3 cup shortening 1 lb brown sugar 3 eggs 1 cup pecans, chopped 1 (6 oz) package chocolate chips Directions ...
Read more