Recipes by

Carrie Breaux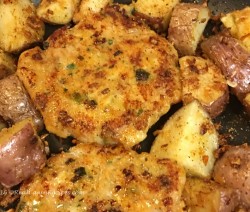 Shrimp patties are a traditional Cajun favorite. Ingredients 1 lb shrimp raw 1 large green pepper 1 large raw red potato Garlic powder to taste 3 tbsp Italian bread crumbs Dash of salt, black pepper and red pepper 1 egg Directions Step 1 Chop the shrimp, green pepper, potato, and ...
Read more A different take on the classic Rice Krispies treat, always a hit with kids. Ingredients 1/2 cup butter or margarine, softened 2/3 cup brown sugar 2 egg yolks 1 tsp vanilla 1/2 tsp salt 1 ½ cups all purpose flour 1/2 tsp baking powder 1/2 tsp baking soda Topping 3 ...
Read more This is one of my favorite fudge recipes. Great Christmas or holiday candy… actually, anytime candy! Ingredients 2 cups peanuts, toasted and ground 1 cup sesame seeds, toasted 5 cups sugar 1 stick butter 1 (12 oz) can Carnation evaporated milk 1 (7 oz) jar marshmallow crème 1 tbsp vanilla ...
Read more Ingredients 3 large eggplants, peeled and diced 1/2 lb fresh sausage meat 1 cup each of chopped onion, bell pepper, celery 1/2 tsp salt 1/2 tsp pepper 1 (6 1/4 oz) package cornbread stuffing mix 2 cups grated cheddar cheese Green onions (onion tops) to taste Directions Step 1 Peel ...
Read more Although not a French Cajun name, this is an extra good recipe and was served often while we were growing up. Easy to prepare. Ingredients 6 or 8 potatoes, thinly sliced 6 tbsp melted butter or margarine 1 tsp Italian seasoning 1/4 tsp garlic powder 1/4 tsp black pepper 1/2 ...
Read more