Recipes by

B. Brinkley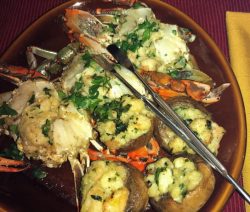 ...g, roll once, and bring flaps over and lightly moisten the edges and seal like an envelope. Heat oil to 350 degrees, place flap down in oil, fry to to three minutes to golden brown turning once or twice. Step 8 Egg rolls may be baked in a 400 degree ...
Read more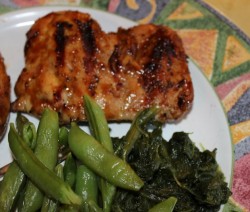 Ingredients 1/2 cup onion, chopped fine 1/2 cup bell pepper, chopped 1 (8 oz) can Gebhardt's barbecue sauce (or other bbq sauce) 1 bottle ketchup 1/4 cup sugar 1/2 cup celery, chopped 2 cloves garlic, minced fine 1 (15 oz) can tomato sauce 5 drops Worcestershire Sauce 1/4 cup salad ...
Read more Mawmaw tried this recipe from Jack Miller's website. It seems almost every child growing up and playing baseball grew up eating Jack Miller's Ball Park Hamburgers; that same sauce is used in this recipe. Ingredients 1 fryer quartered 3 to 5 potatoes sliced 1/2 inch thick 2 to 3 raw ...
Read more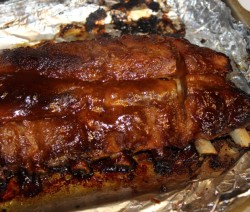 ...and cayenne to taste Directions Step 1 Combine the tomato sauce, sugar, vinegar, salt, pepper, chili powder, Worcestershire sauce, lemon and onion in a medium sized heavy-duty pot. Cook on high until the mixture begins to bubble. Then lower heat and simmer for 1 hour. Step 2 I like to ...
Read more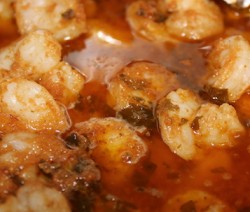 These will remind you of dining in New Orleans at Middendorf's restaurant. Ingredients 1 cup butter 1 cup lemon juice 1/2 cup olive oil 1/2 cup barbeque sauce 1/2 cup chopped onions 3 ounces Jack Daniels 4 tbsp garlic powder 4 tbsp Worcestershire sauce 4 tbsp soy sauce 2 tbsp ...
Read more ...oven, heat olive oil, add flour and brown lightly. Dice garlic, cut into medium pieces the onion and bell peppers then sauté for 1-minute. Step 3 Add all the can tomato, tomato sauce and Rotel; simmer for 5-minutes. Add the bay leaf, basil, sage, lemon pepper, parsley, cayenne, salt and ...
Read more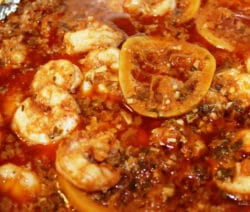 Although Hitachi makes many appliances, almost every Cajun who bought a rice cooker called it by its manufacturer name – a Hitachi! Although not BBQ'ed these shrimp have a buttery smoky flavor Ingredients 2 - 3 pounds shrimp (depending on how many will fit into your insert dish) 1/2 stick ...
Read more We prepare this sauce for our bar-b-cues. Great barbie sauce for any occasion. I always double the recipe. Ingredients 2 small cans tomato sauce 2 cans water (same as tomato sauce) 2 tbsp yellow mustard 2 tbsp steak sauce 2 tbsp lemon juice 2 tbsp Worcestershire sauce 1 cup Brown ...
Read more ...or margarine 2 cups ketchup 2 cups water 1/2 cup vinegar 1/2 cup sugar 2 tsp salt 1 tsp cayenne 4 tsp Worcestershire Sauce fresh chopped jalapeno (optional) Directions Step 1 Cook garlic and onion in the butter until tender but not brown. Step 2 Add remaining ingredients and simmer ...
Read more ...This sauce works great for the brisket smoked a'la oven on this web site. Ingredients 1 bottle Kraft BBQ Sauce 1/2 cup Woody's concentrate 1 small bottle ketchup 1 cup water 1/2 cup sugar Directions Step 1 Combine all ingredients and blend well. Great on the brisket when reheating. Share ...
Read more ...low heat Step 4 Squeeze butter on the crabs or mop with melted butter (melt the butter in a small bowl in your microwave) and cook for 15 minutes Step 5 Butter will make the meat richer. Step 6 Flip the crabs and cook for 5 minutes Step 7 Flip ...
Read more ...4 tbsp Olive Oil 1 tbsp garlic juice 1 tbsp (heaping) black pepper Directions Step 1 Drain 4 cans of the tomatoes, 1 can of chiles. This should come out to 2 cups of fluid, reduce total of amount water to be added to the jambalaya by this amount. Set ...
Read more