Recipes by

Annie Mae Abshire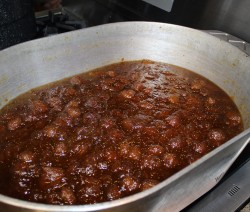 ...Ingredients 2 1/2 quarts fresh figs 2 1/4 cups sugar 1 tsp lemon juice 1 cup water Directions Step 1 Scald whole figs in boiling hot water and peel. Drain well. Combine sugar and water and cook until sugar dissolves. Step 2 Add lemon and figs, and then simmer until ...
Read more This is how I made butter years ago. Ingredients 4 quarts fresh milk Directions Step 1 Remove cream from the 4 quarts of fresh milk and put in a 1 or 2-quart jar. Take the jar and begin hitting it on your knee, keep the process up until the butter ...
Read more Home made jam for diabetics. Ingredients 1 (16 oz) can unsweetened applesauce 2 (4 oz) packages sugar free jello Directions Step 1 Warm applesauce in saucepan until hot but don't let it boil. When the applesauce is warm enough, add 2 packages of your favorite jello. Stir until well blended. ...
Read more Ingredients 3 cups flour 3 tsp vanilla 1 1/2 cup sugar 1/2 cup butter, room temperature 1/4 cup milk 2 eggs 1 tsp nutmeg 1 tbsp baking powder dash of salt 1 tsp cinnamon (optional) Directions Step 1 Preheat oven to 350 degrees. Step 2 Sift all dry ingredients. Blend ...
Read more In memory of his grandmother on her passing in 2006, Brandon, Co-editor of the website, writes: Annie Mae Abshire was born, raised, married and lived in Kaplan, LA, for all 88 years of her life. She was a loving mother, grandmother and great-grandmother who will be missed by all. With ...
Read more