Recipes by

Angela Kay Manuel This is great to have for parties, social events, or just anytime like we do. You can make these as appetizers. If you really like spicy foods just let each batch simmer in sauce until the next batch is ready to come out. If you like mild foods then just ...
Read more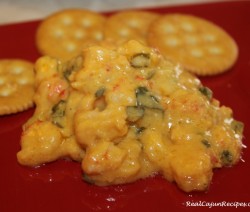 This is a great appetizer served on Ritz crackers or in serve as a main course in a pre-baked pie shell. I always make a double batch as it seems to disappear FAST! Ingredients 2 tbsp butter 1 bunch green onions- scallions chopped 2 tbsp flour 1/2 cup whipping cream ...
Read more This is a different slant on the traditional cornbread dressing/stuffing that I "invented" over 25 years ago. It could easily be a meal in itself and is my yearly contribution to the family Christmas dinner. Ingredients 1/2 pound chicken livers optional 1/2 pound lean ground beef 1/2 pound pork steak ...
Read more This dish contains most of the variety meats that Cajuns call Debris or Bouee. It consists basically of the organs such as liver, heart, kidneys, tripe, spleen (melt), the honeycomb (la platin), brain, lungs and sweetbreads (pancreas). There are two kinds of sweetbreads: stomach sweetbreads (also known as heart or ...
Read more ...growing up my dad, Dan Robicheaux, made this "sauce" when we'd camp, cooking over a camp stove. In 1996 I won 1st Prize in the SW Louisiana State Fair Sauce Piquant cook-off with this recipe" – Angela Propst in memory of her Dad, Dan Robicheaux. Ingredients 2 whole hens, cut ...
Read more