Making Gumbo in Southern California
Bonne Année (Happy New Year) everyone! Hope you had a safe and fun holiday season. Mine was really nice — I spent Christmas at my mom's place in Phoenix and gorged on my favorite holiday dish, candied yams. I also found out that after 7 years of living in Phoenix, mom is moving back to Cajun country! She bought one of the beautiful historic homes in Crowley (in Acadia Parish) and we're all really looking forward to spending next Christmas there. I'm making a big move too — in less than two weeks, I will be moving from Los Angeles to San Francisco. I've wanted to write for a while about what it takes to make a gumbo out here in Southern California and this seems like a good time.
About 2 months ago, I got the envie ("on-vee" – urge) to make a big ol' pot of gumbo. I ended up making two kinds – seafood and meat lovers. The meat lovers' gumbo consisted of tasso (Cajun smoked pork), andouille, fresh turkey sausage and fresh pork sausage. I'm not a big fan of chicken so I nixed that.
Where can you find all of the ingredients to make a good gumbo in Los Angeles? The answer is the Grove's Farmer's Market at Fairfax and Third. Here, you can find everything from the Cajun trinity (onions, bell peppers and celery) to Savoie's roux, fresh Cajun sausage, gulf shrimp and Savoie's Andouille. You have to visit a few places in the market to make a complete gumbo.
The vegetables are easy enough. Pick up your onions, bell peppers, celery and onion tops at Farm Fresh Produce. They've got great prices for fresh produce.
I was at the Farmer's Market to enjoy the crepes at one of the booths but stopped in my tracks when I saw the bright yellow Savoie's packaging at Marconda's Meats. Marconda's sells both Savoie's Tasso and Andouille (my favorite) so I picked up a pack of each. The price was great too — just a little bit more than what I'd pay in Louisiana.
This place is wonderful! Fresh sausage is sold all over SW Louisiana and so I was really confused when I moved to California and found no traces of it. After years of trying to get butcher shops to make a good Cajun fresh sausage for me, Huntington Meats finally did it. I asked one of the owners, Jim, if he could make some sausage and he told me sure, all he needed was a recipe. I called my mom, wrote down the ingredients and handed them to him. He was a bit confused "You said it was Cajun but there's relatively little red pepper. I thought Cajun food was spicy?" I get this question often and I always respond "Cajun food isn't really spicy. We think it's perfect if you just feel a kick after you swallow — not immediately when you take a bite." He made the 5lbs of turkey and pork sausages just as I ordered and I loved it! I went back a couple weeks later and ordered another 5 lbs.
Tusquellas is stocked with a ton of Cajun products! From Savoie's roux to Cajun Power hot sauces and even fresh Gulf shrimp, this place is a displaced Cajun's dream come true. The day I made the gumbo was my lucky day too — Gullf shrimp were on sale for an incredible $2.99/lb! I also picked up a few jars of Savoie's Roux because I was running low on time and I do like the taste of their dark roux. I left Tusquellas with my final ingredients and a big smile on my face. I never thought it was possible to find all this stuff in Los Angeles, let alone all in the same market place.
I went back home and made the gumbo for everyone I could find. In addition to our roomies, Delia and I invited our friend Liz and Johnny and our actor neighbor who looks like Val Kilmer. Everyone enoyed seconds and it still took us about a week to finish eating the leftovers.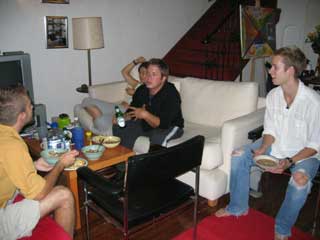 Now to find that magical Farmer's Market in San Francisco 😉