Buras Water Tower Collapse
I noticed that a few people found my site by searching for phrases similar to "Katrina water tower collapse." My blog came up because I talked about the water tower collapse in Hurricane Audrey years ago so it made me wonder there was yet another water tower collapse. I was sent a PowerPoint presentation of Plaquemines Parish (Plaquemines is an native american word for persimmon) tonight that shows scenes from the area after the Hurricane and sure enough, there were amazing pictures of the Buras water tower which had collapsed.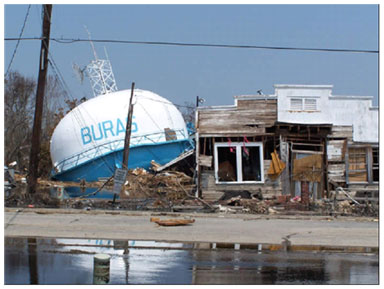 f you'd like to see the rest of these amazing images of aftermath in Plaquemines Parish, you can click here for the Powerpoint Presentation.