Fresh Sausage Rice and Gravy
2004-12-28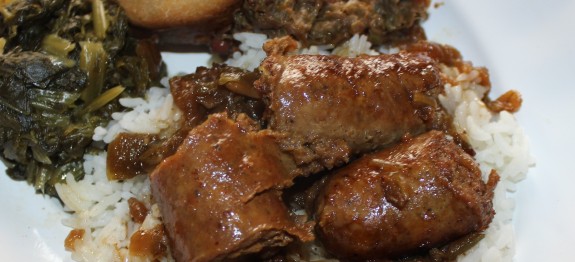 Yield :

4

Servings :

4

Prep Time :

15m

Cook Time :

60m

Ready In :

1:15 h
One of the most constant classic dish that Cajuns enjoy – rice and gravy! A family favorite.
Ingredients
1 package fresh sausage- pork, beef, venison, turkey, chicken
1 onion chopped
4 cloves garlic finely minced
2 tbsp oil
2 cups rice
2 tsp salt
red pepper to taste
Directions
Step 1
Chop onions and garlic and sauté in oil for about 5 minutes.
Step 2
Add fresh sausage and seasonings. Let the sausage cook for about 5 minutes until brown. (Do not add water) When it looks like it's about to burn, move sausage around to make it brown on all sides.
Step 3
Add 3-4 cups of water or enough water to cover the sausage. Cover and simmer.
Step 4
Check often. If gravy is not dark enough, cook down again. Add more water.