Recipe Type:
Shortcuts A great shortbread cookie to enjoy. Good for tea parties and a great treat to serve when sipping coffee with your friends.
Read more A quick, hot summer day treat made with pineapple.
Read more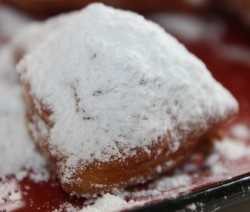 "This is a quick, easy and inexpensive way to make bite-sized beignets. My family has made these little beignets for as long as I can remember. Enjoy!!"
Read more We sold these at the Saturday Food Festival at the World Championship Gumbo Cook-off and they were a big hit.
Read more ROTEL brand tomatoes and chilies are a very popular staple in Southwest Louisiana. That brand of tomatoes is used in so many Cajun dishes, that many of us just say, "Add the Rotel." Rotel is a 10 oz can of diced tomatoes and green chilies, packed in its own juice. ...
Read more The pie crust adds such a delicious twist to the famous Pistachio Watergate Dessert.
Read more Adapted from the Hasbro Children's Hospital Cookbook, which raised funds for the pediatric center's original opening.
Read more This will take ordinary brownie mix to the next level. Bayou brownies!
Read more