Recipe Type:
Shortcuts Baseball, Hot dogs, Apple Pie and Chevrolet! Ok everyone, date yourself – Do you remember that commercial in the 70′s? Now we hear – LSU! LSU! Go team go! Try this delicious easy appetizer for your next tailgate party.
Read more Mincemeat is one of those foods that you either love or hate. The biggest question has always been, exactly what is mincemeat? Mincemeat is defined as a mixture of finely chopped apples, raisins, spices, meat, and rum or brandy, used especially as a pie filling. Sounds like I might just ...
Read more For a while, everyone in the small city where I was from was making this tea. The original recipe called for Start – an orange-flavored breakfast beverage popular in 1968. That alone dates this recipe.
Read more Enjoy this soothing drink. Great for a morning or mid-afternoon treat.
Read more A great shortbread cookie to enjoy. Good for tea parties and a great treat to serve when sipping coffee with your friends.
Read more A quick, hot summer day treat made with pineapple.
Read more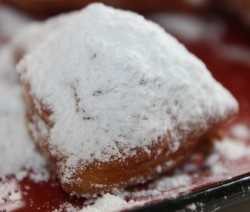 "This is a quick, easy and inexpensive way to make bite-sized beignets. My family has made these little beignets for as long as I can remember. Enjoy!!"
Read more We sold these at the Saturday Food Festival at the World Championship Gumbo Cook-off and they were a big hit.
Read more