Recipe Type:
Chicken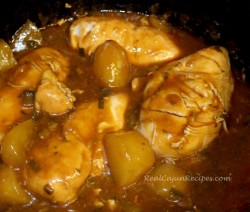 This is an old Cajun classic that has a many variations. This is my version
Read more Boneless, skinless chicken breasts stuffed with fresh venison sausage. A spicy blend of Cajun cuisine that will please everyone's taste buds.
Read more Quick and easy way to make a one-pot meal. Add a green salad and garlic bread for a complete dinner.
Read more A great tasting chicken casserole that's easy to make.
Read more