Recipes With Course:
Soups & Salads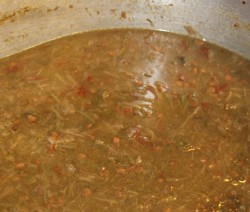 I find most gumbo recipes to watery for my taste. So I loaded this one up with a bunch of stuff. I use a dark roux, which doesn't thicken the gumbo as much as a light one. Therefore the okra in this recipe completes the thickening.
Read more So deliciously rich and satisfying – just like Momma use to make.
Read more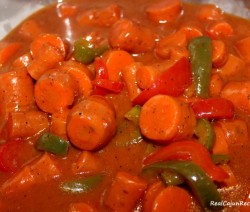 Also known as copper pennies, this makes a very good side dish with your main meal especially roast. Great for parties too!
Read more Ever wonder what to do with all the leftovers from your last crab/shrimp/crawfish boil? This is a great recipe to try.
Read more This is a sorta spicy, warm, filling soup that is great on those chilly winter nights here is Louisiana
Read more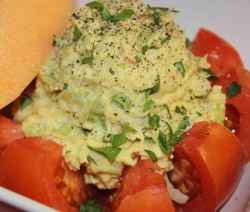 Most Cajuns follow the tradition of not eating meat on Friday during the Lenten season. This recipe would be great for Lent. Donald writes, "Dakota is the great-grandson of Isadore Delcambre, This is 8 yr-old Dakota's, 1st easy to make lunch recipe. This salad should be served on your favorite ...
Read more You don't have to be Cajun to make gumbo anymore. Gumbo Mix can help you out when you need it. Gumbo mix is a retail item off your grocery shelf. Add your own fresh sausage, seafood or chicken and serve over rice. This is a good Cajun gumbo, with much ...
Read more