Recipes With Course:
Nouveau Cajun Almost like a catfish courtboullion, but this recipe takes a lot less time to prepare.
Read more Jon writes, "The reason I consider this Cajun is because my Mom, who is Cajun, made the recipe up". It sure is good, he claims. Jon for his Mother, Dean Miller
Read more Sauerkraut, a non-traditional Cajun food, has captured the Cajun's taste buds and is served more and more frequently on the Cajun dinner table.
Read more "While living in Lake Charles, Louisiana, I had a few friends visiting from Austin, Texas. I offered to cook dinner for these guys, but to my surprise, they soon let me know that they were vegetarian. This was a first for me, but not a problem. My creativity led me ...
Read more One of our more "Guilt-Free Cajun Creations" Our author writes, "This is another one of my somewhat Heart-Healthy recipes. There are a few open markets here in Kansas City, and one day, while walking through the famous City Market, I stumbled upon a vender selling the odd combination of spinach ...
Read more "Being from Louisiana and transplanted in New York, my Cajun roots can't help but be cooking…"
Read more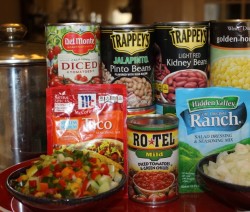 "This is a recipe that has passed through my family for a few years now. Of course, I'd take the version that my grandmother, Mrs. Nolia Faulk, passed on to my father, Kendal Faulk, and put my own twist on it. My Southwestern Grilled Chicken Soup is fairly heart healthy ...
Read more Cajuns love to cook "all day long" meals, but this soup is as good as any "all day cooked" soup. With busy schedules, this makes you look like you slaved all day; allowing you quality time with family and friends or a good game of bouree.
Read more