Recipes With Course:
Main Dishes This recipe's author, Mike, writes: My great great grand mother taught me how to cook on a wood fired stove and I have been hooked ever sense. I spent the last 2 fall seasons in Alaska on a jut of land on the Bering Sea cooking for a duck guide. ...
Read more This is a shortcut chicken and dumplings recipe. If you'd like to make the dumplings yourself, check out our homemade dumplings recipe.
Read more No Cajun wedding reception is complete without a wonderful food, booze (drink responsibly), and the "Chicken Dance" song. While often placed firmly on the "do not play" list along with "YMCA" and the "Macarena," the song about flapping your wings like a silly bird still sneaks onto the set list ...
Read more This was an interesting recipe for Maw-Maw. It was the 1st time that the word "cobbler" was used in a crabmeat recipe. In reviewing the recipe and the ingredients, one of the differences was the tomatoes. Another interesting ingredient was the Accent; Accent is a brand name for MSG. MSG ...
Read more Looking for a simple dish that would be great for Weight Watchers? This dish has it. You are sure to get your vegetables for the day with this dish. Shrimp are also very healthy for you to eat in a regular diet. Most Cajuns favor Gulf Shrimp. The thing to ...
Read more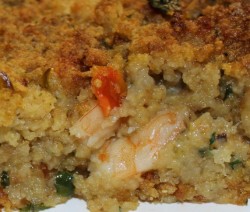 Enjoy this fun information on LA seafood: in a blind taste test, consumers chose Louisiana oysters over others sold in the US 85% of the time. Cajuns will chose it 100% of the time. Fried Oyster or Fried Shrimp compliment this dish.
Read more