Recipes With Course:
Main Dishes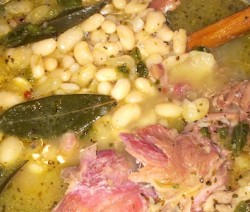 This is an amazing ham and bean soup.  It's also the perfect way to use the leftover ham bone or ham slices after Thanksgiving or Christmas.  An added bonus to this recipe is its flexibility.  If you don't deem yourself a great cook, or are afraid of taking on such ...
Read more Great main dish for any occasion, nearly fat free and will wow your eaters!
Read more This is a special venison broth that can stand alone as a broth for pasta or, if you clarify it later, as a consommé. It's stronger in flavor than stock, so if you use it as a base for stews or soups, remember that – and label your jars accordingly. ...
Read more These grillades are great served over cheese grits at a holiday brunch.
Read more The author writes – This is a recipe that I have modified from baked chicken to turkey. It is very moist, and very tasty. It is self- basting as you will see from the recipe instructions. There will be a transfer of smoked flavor from the bacon into the turkey. ...
Read more Mikes writes: "This recipe is easy but cook time can take a while. Right after the war before all the gas and electric stoves and I was still very young, my Great Grand Ma and Pa would make this outside in a huge 3 legged wash pot over hot coals. ...
Read more