Recipes With Course:
Appetizers This sweet punch has a nice pulpy texture.
Read more Potatoes are definitely America's favorite vegetable. And, of course, Cajuns are no exception.
Read more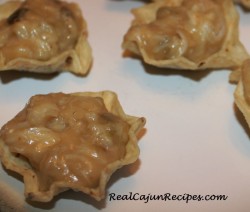 This recipe makes me long for the days of crabbing at Rockefeller Refuge with my children. Rockefeller Wildlife Refuge, located in eastern Cameron and western Vermilion Parishes, is owned and maintained by the State of Louisiana. When the Rockefeller Foundation officially granted the property to the state, they spelled out ...
Read more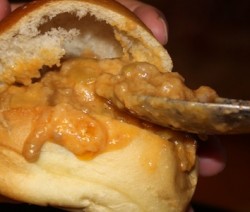 Pistolettes are a football shaped brown 'n serve bread rolls also known as French rolls. The inside of these rolls are carved out and replacing the cavity a delicious concoction of shrimp or crawfish wonderment. As my son says, there is nothing that taste better than 2 carbs together. This ...
Read more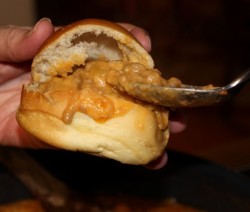 This is a very popular Cajun dish, a pistolette is savory, stuffed bread roll, which is then baked or deep-fried. Cooking in the wax paper makes for a crispy crust so don't skip that step! Sautéed bell pepper and breakfast sausage make for a nice addition.
Read more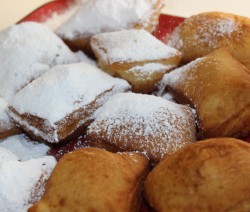 Beignets are commonly known in the U.S. as a dessert served with powdered sugar on top, however, they may be savory dishes as well and may contain meat, vegetables, or fruits. Beignets are traditionally prepared right before consumption to be eaten fresh and hot. The most popular drink served with ...
Read more Synonymous with good eating are Beignets and Cafe au Lait. Me-Maw remembers visiting with Nannie Ouida and having her say how easy it was to make the Cafe au Lait.
Read more
For your next party try a no-cooked dip. A corn fun fact – corn is the only grain that's commonly eaten as a fresh vegetable. Native to the Americas, corn is one of the favored dishes in Cajun culture.
Read more